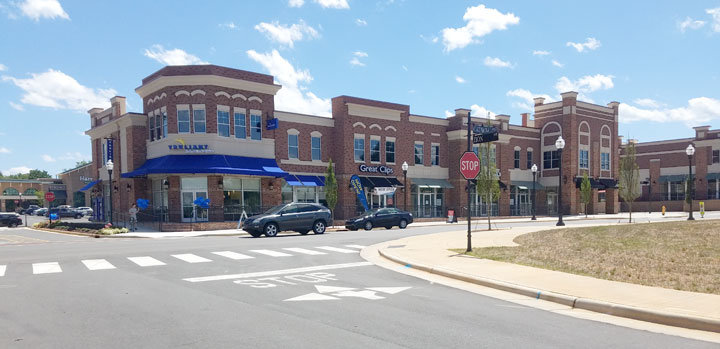 July 29. By Dave Yochum. It looks like Rogers Cleaners will finally open in an Antiquity storefront in August. Formerly New Method Laundry—a name that dates back to the early 1900s—Rogers' 1,000 square foot space is nearly complete, according to owner Aaron Rogers.
"We're 90 percent done. The walls are up, the drop ceiling is. The bathroom is in," he said, guessing the operation will be open in about two weeks, "no later than the end of August." His mother, Reba Rogers, who probably knew more about Cornelius' spills than anyone, will be back at the front desk.
Rogers said New Method gave a 20 percent discount to members of the clergy and teachers. It will continue to do so in the new location with the new name.
Meanwhile, Truliant Federal Credit Union held a ribbon cutting at its newest full-service branch two doors down. The 2,395-square-foot financial center will be among 14 open in the region by the end of the year.
The Cornelius branch is being managed by Dan Crouse. He will lead efforts to grow membership and cultivate business relationships in the community. Most residents of the Charlotte-Mecklenburg region are eligible to join the credit union.
Huntersville opened last year; Truliant will soon open additional locations in the Waverly and South Boulevard areas. The Cornelius branch includes a walk-up Smart ATM that accepts deposits without envelopes and a night drop box for business deposits.
Antiquity retail is starting to bustle, albeit more than six months behind schedule. Other stores open include Dunkin Donuts and Great Clips.
The Rogers' have owned New Method/Rogers for more than 30 years. Aaron, a UNC-Charlote graduate, is the owner and manager of the business which is now based in Mooresville. The business employs eight people.