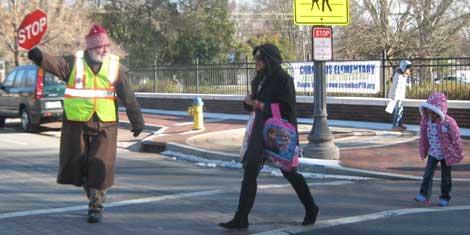 By Dave Vieser. Meet Robert Jarosz, the cheerful crossing guard who guides students and parents safely across Catawba Avenue at Cornelius Elementary School. Jarosz has become a familiar, friendly figure in downtown Cornelius over the four years he's been working as the school's crossing guard. The 82-year-old enjoys the job immensely.
"It's fun to speak with the kids and their parents, too," Jarosz said on a recent Thursday waiting for the 3:45 p.m. bell to ring. "Most of them know me by name, and I've come to know many of them too."
Jarosz is very proud of his record at the crossing which is located at the entrance to the school directly across from the library. "Four years, no accidents, no injuries. That's the way I like it."
Being a crossing guard is a "career change" for Jarosz, a retired dentist from New York. Originally, the Jarosz's were looking near Fort Mill S.C., but when they saw the Bexley at Lake Norman apartments, Cornelius won out.
Jarosz, who met President Eisenhower when he was in the Navy, praticed dentistry for 38 years near the Bethlehem Steel Plant in Lackawanna, N.Y. He and his wife Evelyn have three children and five grandchildren.
Cornelius Elementary Principal Jessica Holbrook spoke highly of Jarosz: "Safety is always one of our top priorities in school and it's great to have someone as responsible as Robert making sure that our students and their parents are able to cross the street safely every day."
How does Jarosz like standing outside for hours each day in the cold weather this winter? "I'm used to it, coming from upstate New York. Furthermore, I'm also used to hunting in temperatures well below zero. Just dress warm."