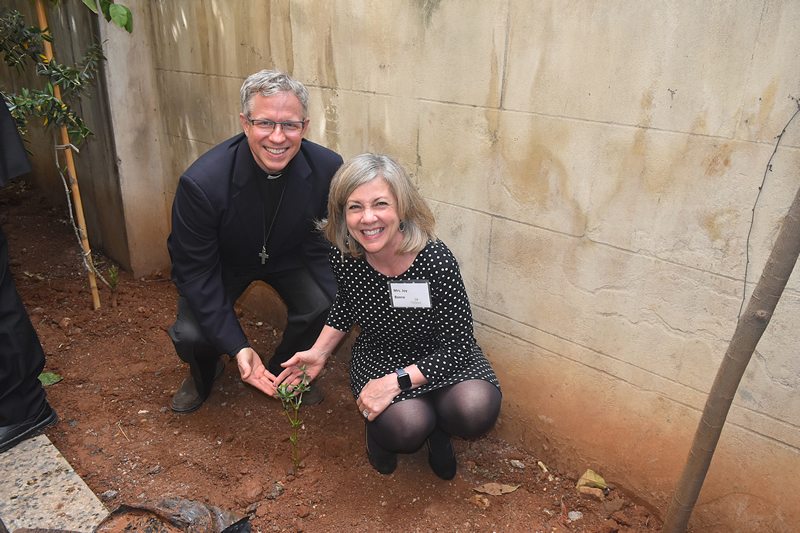 Rev. Tom and Joy Boone are just back from a mission trip to Syria, one of the most challenging political environments in the world. Their purpose was "to come alongside the churches there and to encourage them, hear their stories, and discover opportunities for partnership," said Tom Boone, the senior pastor of Bethel Presbyterian Church in Cornelius.
Known for its barbecue (the community-wide event is Sept. 27 this year) and mainstream beliefs as well as outreach and mission, Bethel Presbyterian is different in a thousand ways from Syrian Christian churches, but the same in the most important way.
"When we get down to it, the entire Bible is a story of God's plan to redeem and bless broken creation, and He invites us into the process," says Boone.
The Boone's trip was sponsored by The Outreach Foundation, a Presbyterian mission agency. The first church they visited was in Aleppo, where the original church building was destroyed by terrorists in 2012.  The Battle of Aleppo lasted more than four years.
Boone, who says there are 83 separate groups fighting in Syria—none of which are Syrian—explained there is a positive relationship between the Muslim and Christian populations. Bethel Presbyterian will host a Syrian Pastor from Damascus on Aug. 19. The community is invited to listen to his presentation. Cornelius Today's Dave Yochum asked Boone a few questions about the mission trip:
What Bible verse inspires you around overseas missions?
Boone: Different verses guide each opportunity the Holy Spirit opens before us. In the case of Syria, two verses guided our team. First, in line with Romans 1:11-12 we went to encourage the Christians who have been enduring eight years of war, to hear their stories, and assure them we have not forgotten them. Second, 2 Corinthians 1:20 tells us that in Christ all God's promises are yes. By showing up despite the danger and risk, we were Christ's "yes" to the people of Syria.
Why Syria, and not West Charlotte or Appalachia?
Boone: When God opens the door, we go through it in obedience not because it is convenient or safe. The visas came through just after—not before—the US, UK, and France responded with military action in April. This was nothing short of a miracle, and an obvious sign to us that God was saying "yes" by opening this door.
Share a story from your mission trip.
Boone: We stood on the rubble of a church in Aleppo that was bombed by terrorists. They bombed the church because the church was protecting four Muslim Syrian soldiers and refused to give them up. The Muslim soldiers are still buried in the rubble of that Christian church. Across the street is a large mosque that was bombed and in its ruins lie the remains of some Christian Syrian soldiers. How ironic. The Syrians are surprised by stories they hear from their family members about the situation in the US and the EU where Christians and Muslims do not get along well.
Did you ever feel that your life was in danger?
Boone: The closest we came to real danger was when we visited one Christian town surrounded by ISIS and other terrorist groups. Fighting was 1 kilometer away. We were escorted into town by a civilian militia; we heard continual shelling and missiles being launched as we played with the kindergarten children at the church. It was an opportunity to reflect on the provision of God in the midst of war.
What needs did you identify?
Boone: Financial needs are immense due to the sanctions having a negative effect on the population and 60 percent unemployment. High emigration is also a serious problem. So, we've also been asked to help with a leadership development project with the goal of retaining young leaders in the country to stay and lead through their redevelopment. The third greatest area of need is in rebuilding. The churches will be part of this due to their positive relationship with the government.
Has your trip resonated with church members?
Boone: One of our confirmands was so touched that he used his birthday money to purchase 12 olive tree saplings. He offered to plant them for anyone interested as a reminder to pray for peace in Syria. One of the Syrian pastors described this as "a waterfall of hope" for Syrians.