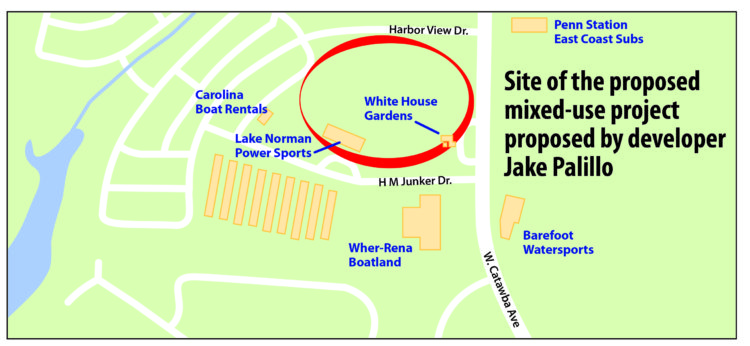 Dec. 8. By Dave Vieser. Monday night's public hearing on a proposal by developer Jake Palillo to build 252 apartments plus commercial buildings on West Catawba Avenue near Junker Drive attracted over 50 residents, with all those who spoke opposing the project. The proposal had previously generated strong opposition from local residents during a virtual community meeting conducted in November.
This time, residents gathered in the adjacent community room to monitor the meeting, and speakers entered the official town meeting room one by one to testify.
Deputy Town Manager Wayne Herron opened the meeting by outlining the review procedure for the project, while also revealing that the adjacent community, Lake Norman Cove at Jetton, may opt to become a gated community. "They maintain their own roads so they have the right to do so," Herron said.
However, such a move would limit all ingress and egress for the development onto West Catawba Avenue. This could further complicate the project's TIA (Traffic Impact Analysis).
'Looks like a junkyard'
Palillo launched into his view of the proposal.
"This part of Cornelius looks like a junk yard and really needs some work. Our research shows that there's a market for apartments such as these, which would rent out for between $1,600 and $2,000 a month," he said.
Palillo also expects to attract pub/restaurants and possibly medical offices into the commercial segment of his development. He said retail was dead.
He went on to express disappointment with the level of opposition already expressed by some residents towards his proposal, calling them "crazy facebook fans."
Residents opposed
When it came time for the residents to speak, they didn't hold back either.
"We're not against expansion, but let's do it in a smart way," said Colin Johnson.
Robin Blair unsuccessfully urged the Town Board to table the meeting due to the pandemic conditions and regulations.
Also speaking out against the project was former Commissioner Kurt Naas. "The board, through its conditional zoning process, can require numerous conditions for the developer. Frankly, this is the wrong time and the wrong type of project for this town."
After the 10 live speakers, Town Clerk Lori Harrell read aloud 20 minutes of emails from residents, all in opposition. In addition, a petition opposing Palillo's plan—containing 333 signatures—was submitted to the town board.
Next steps
This was the first public hearing for this project and the commissioners listened to the testimony without making any comment. A second Town Board hearing will be held later as well as a hearing before the towns Planning Board. The project will also be reviewed by the Architectural Review Board. Only after all these steps are completed will a decision on the requested rezoning be made.
Mayor Woody Washam told the residents that it would probably take at least 3-4 months for this process to play out and that they would have the opportunity to be heard again if they wish.