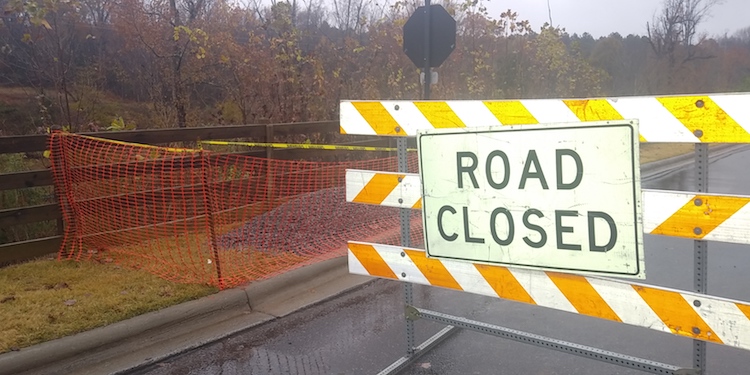 April 11. By Dave Vieser. The Antiquity sinkhole, which has required traffic to be diverted from Old Canal Street since last fall, may soon be repaired, according to developer Cam Finley.
"It's a drain box that needs to be sealed up," Finley told Cornelius Today. "I've been ready to fix it for some time, however, cannot until an engineer signs off on the repair. That should happen within a week. The repair would immediately follow."
That's good news—mostly—for homeowners in the mixed-use development just east of Main Street. "I know many of our residents will be glad to have access to that road back," said Giselle Massi, who lives nearby. "On the other hand, there are some who live along Old Canal who have enjoyed the reduction in traffic volume going by while the road was closed."
Residents in the past have complained about speeders traveling between South Street in Davidson to Main Street on Old Canal.
The Town of Cornelius has limited control over Antiquity roads that have not yet been turned over to the town. This means the developer, not the town, is responsible for repairs on Old Canal.
According to state law, a "surety performance bond" is required before a project such as Antiquity can proceed. The bond is essentially a promise that the principal will comply with all codes as required by the municipality.
According to Town Planning Director Wayne Herron, the bond on Antiquity is $1.1 million. Town officials discussed using the bond to complete repairs, which may have hastened the process.
There was another sinkhole on Old Canal back in 2013. The nearby topography is challenging, with a steep drop down to a creek bed.