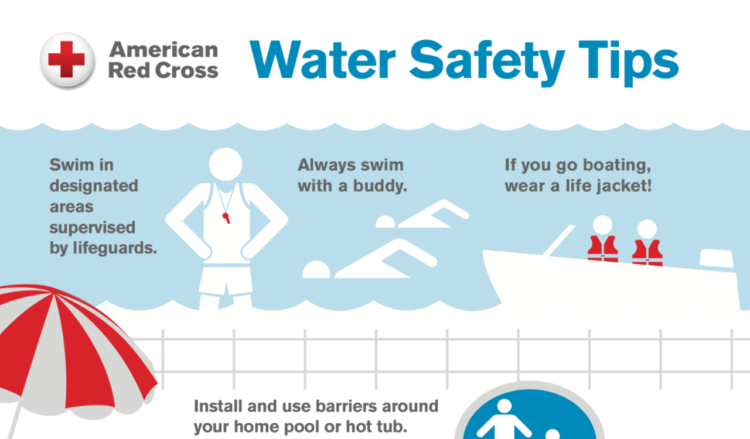 July 1. The Independence Day weekend is the perfect time to take a dip in a pool or the lake or visit a water park. The American Red Cross recommends steps you should take to help stay safe around the water, especially during the pandemic.
"Due to the pandemic, most swimming pools, water parks and beaches were closed last season. Many facilities are open again, although some are not and others have limited hours," said Allison Taylor, Regional Executive of the American Red Cross Greater Carolinas.
If you are planning to visit a public pool, beach or water park, check on governing regulations before you make the trip.
According to the latest guidance from the Centers for Disease Control and Prevention (CDC), stay home if you are sick. If you are fully vaccinated, you can resume activities without wearing a mask or social distancing. Again, check with state, local, tribal or territorial regulations.
If you are not fully vaccinated, stay at least 6 feet away, both in and out of the water, from people you don't live with.  
 "As you head back to the water, take it slow," says Taylor, "Give yourself and your children time to re-acclimate to swimming and being around the water, especially in water that is more than chest deep.  Swimming skills and fitness in the water could both be a little rusty for those who have been out of the water for the last year or longer."
Water Safety
 + Designate a "water watcher" to keep a close eye and constant attention on children and weaker swimmers in and around the water until the next water watcher takes over.
+ Always swim with a buddy in a lifeguarded area and follow the rules of the facility.
+ Provide close and constant attention to those you are supervising in the water.
+ Stay within arm's reach of young children and new swimmers.
+ Check the water depth and don't swim or play beyond your swimming abilities.
+ Children, weak or non-swimmers, and all boaters should wear a properly fitted U.S. Coast Guard-approved life jacket.
Watch the weather and get out of the water at the first sign of lightning or rumble of thunder. Stay indoors and away from the water for 30 minutes after the last lightning flashes or thunder roars.
Beach Safety
+ Swimming in a lake is different than swimming in a pool. Be sure you have the skills.
+ Swim only at a beach with a lifeguard, within the designated swimming area. Obey all instructions and orders from lifeguards and ask them about local conditions.
+ Make sure you swim sober and that you always swim with a buddy.
+ Protect your neck—don't dive in headfirst. Check for water depth and obstructions and walk carefully into open waters.
+ Know your limitations and make sure you have enough energy to swim back to shore.