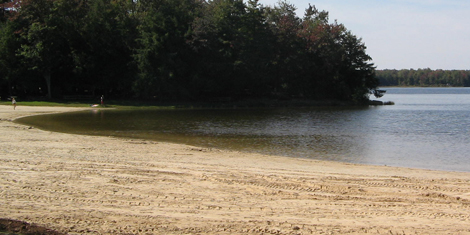 It looks like there's going to be public swimming in Cornelius once again. Mecklenburg County Parks Director Jim Garges says a public beach at Ramsey Creek Park will open next year. Based on parking for 127 cars, the beach might accommodate around 500 swimmers.
It will be the only beach in Mecklenburg County. "I wish it was four times as big," Garges said. There is no lake swimming set aside by the Town of Cornelius.
Mecklenburg County plans to spend up to $425,700 on the new beach, which includes grading, restroom improvements and renovations to the guard shack.
Construction should get under way as soon as the new fiscal year starts. It should be ready for the public by summer next year.
Road improvements at the intersection of Nantz and W. Catawba, are not part of the plan at this time.
Garges said the park will be manned by five or six life guards from dawn to dusk "We're going to overstaff it to make sure we're ready for anything," Garges said.
The beach is expected to help promote tourism in Cornelius, although residents "will always have priority," Garges said. Deploying some kind of check-in system for residents vs. non-residents would in and of itself cost time and money.
"We'll just need to evaluate the feasibility of charging," he said.