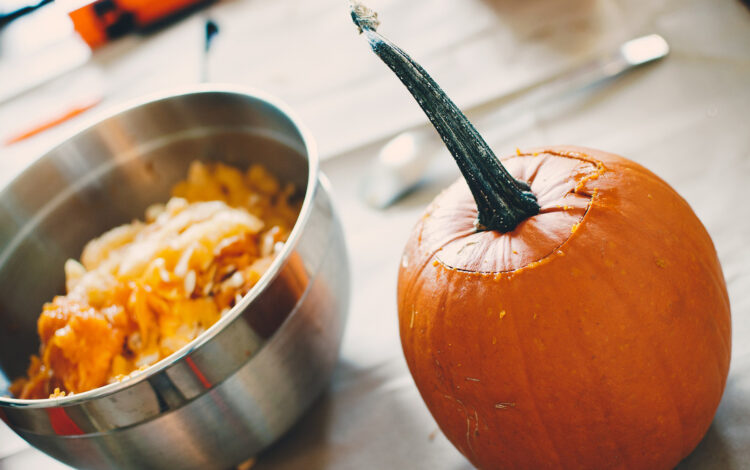 Oct. 3. By TL Bernthal. Pumpkin is an incredibly nutritious gourd, not just a fall decoration.
Pumpkin is particularly popular to enjoy around Halloween and Thanksgiving.
That bright orange color we love in the fall is a tip-off to its health benefits. Sugar pumpkin is rich in vitamin A and a good source of omega-3 fatty acids, vitamin C, potassium and fiber.
Eating pumpkin may help support eye health, cardiovascular and digestive health.
If you're not using canned pumpkin, you want to buy fresh sugar pumpkins, which are also called pie pumpkins or sweet pumpkins.  Sugar pumpkins are smaller, sweeter and less fibrous than larger carving pumpkins.
There are many ways to incorporate pumpkin into desserts, soups and salads.
• Cornelius Today asked readers for their favorite pumpkin recipes
Pumpkin Earthquake Cake
Submitted by Karen Ulmer, Cornelius Parks and Recreation Department
"I have lots of pumpkin recipes, so it was hard to pick just one. I decided to send you the one below – I got it off the internet somewhere – and though it's probably not good for you, it sure is good."
Cake:
1 box white cake mix (15.25 ounces)
1/2 cup vegetable oil
1/2 cup water
1 cup pumpkin puree
1/2 cup brown sugar
1 teaspoon pumpkin pie spice
1/2 tsp ground cinnamon
1/8-1/4 teaspoon ground allspice
1 teaspoon vanilla extract
3 eggs
Cream Cheese Filling:
8 ounce cream cheese, at room temperature
3 cups powdered sugar
1/2 cup butter, melted
Additional ingredients:
1 cup pecans
1 cup shredded coconut
1/4 cup chocolate chips, optional
1/4 cup butterscotch chips, optional
Instructions:
• Preheat oven to 350 degrees and grease a 9×13 baking pan.
• Sprinkle coconut and pecans over the bottom of the baking pan. Set aside.
• In a bowl, mix cake mix, vegetable oil, water, pumpkin, brown sugar, pumpkin pie spice, cinnamon, allspice, vanilla extract and eggs together until well combined. Pour batter over the coconut and pecans.
• In a separate bowl, whisk (by hand or with a mixer) cream cheese, melted butter and powdered sugar together. Once combined, dollop spoonfuls of the mixture on top of the pumpkin cake batter. Using a knife or toothpick, swirl the cream cheese and pumpkin cake together.
• If using, sprinkle chocolate chips and butterscotch chips on top and swirl the chips in with the cake.
• Bake for 35 minutes. The cake should be set on top, but the center should still jiggle lightly when the cake pan is gently tapped.
• Allow to cool before serving, but it can be eaten warm or at room temperature as well.
• Store leftovers in the fridge. Enjoy!
Pumpkin Chai Smoothie
Submitted by Karen Ulmer, Cornelius Parks and Recreation Department
Makes 1, but can easily be doubled
Ingredients:
¾ cups almond milk
½ banana (use frozen for a thicker smoothie)
1/3 cup pumpkin puree
1 tablespoon chopped pecans
1 scoop vanilla protein powder (or plain protein powder plus ¼ teaspoon vanilla extract)
1/8-1/4 teaspoon cinnamon
Pinches of cardamom powder and ginger powder
1 date, pitted (optional, adds sweetness)
Scoop of ice
Instructions:
• In a high-speed blender, combine all ingredients. Blend until smooth and creamy. Enjoy immediately!
Polly's Pumpkin Crisp
Submitted by Wanda Pohl, River Run, Davidson
This recipe came from a University of Georgia sorority sister, Polly, who served it at a sorority reunion.
Ingredients:
15-ounce can pumpkin
1 cup evaporated milk
2 cups sugar
1 teaspoon vanilla
1/2 teaspoon ground cinnamon
18 1/2-ounce butter-flavored yellow cake mix
2 cups chopped pecans
1 cup butter, melted
Whipped cream
Ground nutmeg
Instructions:
• Preheat oven to 350 degrees
• Stir together the first five ingredients. Pour into a lightly greased 13-inch x 9-inch baking dish. Sprinkle cake mix evenly over pumpkin mixture; sprinkle evenly with pecans. Drizzle butter evenly over pecans.
• Bake for 1 hour and 5 minutes or until golden brown. Remove from oven and let stand for 10 minutes before serving. Save warm or at room temperature with whipped cream. Sprinkle with nutmeg if desired.
Whipped cream:
8-ounce carton whipping cream
3 tablespoons powdered sugar
Dash of nutmeg
• Beat cream at low speed with electric mixer until foamy; increase speed to medium-high and gradually add sugar and nutmeg, beating until soft peaks form.
–Serves 10
Pumpkin Dump Cake
Submitted by Ann Miltich, Nantz Road
"The PDC is my go-to dessert when I want a 'different' type of cobbler for a group meal. It is a combo of a pumpkin pie with a cake upper crust. Nice and simple to be able to serve chilled or warmed with some Cool Whip or ice cream."
Ingredients:
1 1/2 cups half and half
3 eggs
1 cup brown sugar
1 1/2 tsp vanilla
1 1/2 tsp nutmeg
1 tsp cinnamon
1 tsp ground ginger
2 (15 oz ) canned pumpkin
1 cup unsalted butter (melt)
1 box yellow cake mix
Instructions:
• Preheat oven to 350 F.
• Grease a 9 x 13 metal baking pan
• Mix sugar, half and half, eggs, cinnamon, ginger, nutmeg and vanilla.
• Mix in pumpkin and 1/4 cup of melted butter.
• Spread into greased baking pan.
• Spread dry cake mix over the pumpkin mixture.
• Spread 3/4 cup of melted butter over the top of the cake mix.
• Bake approx. 60 min until top is browned and fully cooked.
• Allow to cool to room temperature to completely set.
• May be served warmed or chilled with your favorite topping.
Pumpkin Dog Treats
Submitted by Ann Miltich, Nantz Road
The dog pumpkin treat is great for adding healthy fiber to a dog's diet.
Ingredients:
3 cups flour (whole wheat)
1 cup canned pureed pumpkin
2 eggs
1/2 cup Xylitol-free peanut butter
Instructions:
• Pre-heat oven to 350 F
• In a bowl mix eggs, pumpkin and peanut butter
• Add flour and knead mixture into a dough
• Dust dough roller with small amount of flour
• Roll the dough out to ¼-inch and slice dough into bite size treats or use a cookie cutter.
• Place cut-outs on parchment lined baking sheet
• Bake 20-25 minutes.
Roasted pumpkin seeds
Submitted by Melissa Hart, The Peninsula
"One of my favorite fall treats is cooking pumpkin seeds after just carving a pumpkin." Roasted pumpkin seeds as a snack are a great source of proteins and healthy fats. 
1. Separate seeds from the goop in the pumpkin
2. Clean seeds under water
3. Simmer in salted water for 5 minutes. This helps clean the seeds and seasons them.
4. Dry seeds; the more dry, the better.
5. Toss with oil and seasoning of choice. I like paprika.
6. Cook at 350 degrees in pre-heated oven until brown around the edges of the seeds.
Pumpkin Bars
Submitted by Jan Marine, Spinnakers Reach Drive
The recipe was given to her by a neighbor in 1974, in Janesville, Wisconsin.
"My kids were little and they loved those bars year round!"
Ingredients:
4 eggs beaten              
2 cups sugar                     
½ teaspoon salt           
1 teaspoon soda          
2 cups flour                 
1 cup oil
1 cup pumpkin
2 teaspoons cinnamon
1 teaspoon baking powder
1 cup nuts
• Combine all ingredients and mix well.  Spread in a greased and floured cookie sheet.  Bake at 350 for 20-25 minutes.
When cool, frost:
8 oz cream cheese
1 stick butter
1 tsp vanilla
4 cups powdered sugar
• Beat and spread.
Harvest Salad with Pumpkin, Feta and Pumpkin Seeds
Editor's choice
Roasted Pumpkin:
5 pounds sugar pumpkin
2 tablespoons olive/canola oil (in mister bottle)
1 tablespoon McCormick salt free seasoning blend
Lemon Thyme Vinaigrette:
1 1/2 tablespoons lemon juice
1 1/2 tablespoons white balsamic vinegar
1 1/4 teaspoons honey
1 1/4 teaspoons Dijon mustard
Pinch of ground black pepper
1/3 cup olive/canola oil
1/2 teaspoon chopped fresh thyme
Salad:
7-1/2 cups arugula
1/2 cup crumbled feta cheese
2 tablespoons hulled pumpkin seeds
5 tablespoons lemon thyme vinaigrette
Instructions:
• Preheat the oven to 375°F.
• To roast the pumpkin: Split the pumpkin in half and scoop out the seeds. Cut each half in half and then use a peeler to take off the skin. Cut each of the quarters into 1 inch across strips. Lay the pumpkin strips in a single layer on a parchment lined baking sheet. Spray with oil and sprinkle with McCormick salt free blend. Bake for 45 minutes or until tender.
• For the Lemon Thyme Vinaigrette: Combine the lemon juice, balsamic, honey, Dijon, salt and pepper in the bowl. Slowly drizzle in oil whisking to emulsify. Finish with fresh thyme. Reserve cold until ready to use.
• In a large, shallow bowl, arrange the arugula on bottom, top with roasted pumpkin slices, sprinkle with feta and pumpkin seeds. Drizzle with vinaigrette.
—Makes 5 servings
Nutrition Facts per Serving:
Salad serving size – 1 serving: Calories 304, Total Fat 6g, Carbohydrates 19g, Fiber 2g, Sodium 296mg, Protein 8g
Lemon Thyme Vinaigrette serving size – 1 ounce: Calories 169, Total Fat 18g, Carbohydrates 2g, Fiber 0g, Sodium 51mg, Protein 0g
— Recipe courtesy of Morrison Healthcare