​Oct. 12. At their meeting this coming Monday, Cornelius commissioners will conduct the first of two public hearings on a prime 11-acre development site between West Catawba Avenue and Knox Road at One Norman Boulevard.
The owner, Charter Cornelius, is planning five commercial buildings comprising a total of 48,225 square feet. The proposal calls for three buildings fronting on West Catawba and two facing Knox Road. In between, a private road with access to multiple rows of parking is planned, as well as a retention pond/tree buffer on the northeast corner near Knox.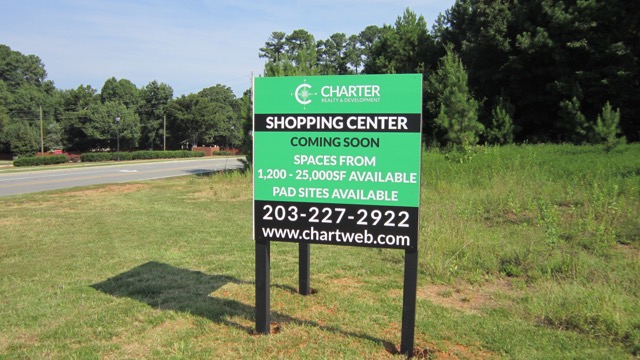 The vacant property was once considered for a Food Lion Supermarket but those plans were abandoned in the late 1990s. Charter Cornelius is part of Charter Realty & Development Corp., a well-regarded real estate investment, development, and leasing company specializing in retail properties. Charter, which dates back to 1993, has acquired and developed more than 60 shopping centers and freestanding net leased properties comprising nearly 10 million square feet with a total acquisition and development cost in excess of $1 billion.
Also at Monday's meeting, the Board will hold a public hearing on a request by Michael Waltrip to sub divide his property on Liverpool Parkway.
While the public will be invited to comment about these projects during the hearings, no decisions will be made by the commissioners. The meeting will begin at 7 pm in Town Hall on Catawba Avenue.