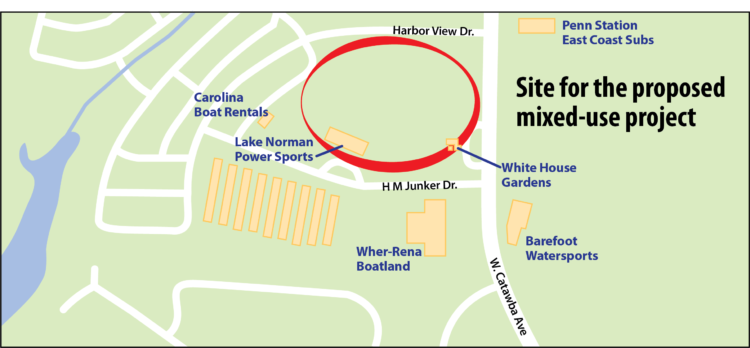 Dec. 2. By Dave Vieser. A proposal to build 252-unit apartment project along with commercial buildings near the intersection of West Catawba Avenue and Junker Drive—around where White House Gardens is now—will be the subject of a public hearing on Monday Dec. 7 at 6 pm. The same proposal generated strong opposition from local residents during a virtual community meeting in November.
The plan has been submitted by Palillo Holdings LLC to develop 12.2 acres between Harbor View Drive and Junker. The plan, which calls for 4,865 square feet of commercial space, is in the Lake Norman Watershed Critical Area, and the builder is requesting a change to Conditional Zoning from Village Center.
Virtual shouting match
The community meeting Nov. 18 digressed into a shouting match between the developer and residents. Attempts were made to lower the volume as the meeting progressed but the lack of face-to-face conversation seemed to doom any real success.
Palillo turned down a request from Cornelius Today for an interview.
COVID procedures
The Dec. 7 public hearing will be conducted at Town Hall on Catawba Avenue.
Residents wishing to speak can sign up at Town Hall that evening, but due to COVID-19 regulations, mask usage and social distancing will be required. Comments may also be made online by accessing the town web site at www.cornelius.org.
Online comments will be incorporated into the formal public hearing record.
No decision will be made on the proposal Dec. 7. A public hearing before the Planning Board and a second Town Board Hearing must be held before any final decision is made.