Sept. 15. Praise in the Park, a free, family-friendly festival, is this Saturday at Smithville Park. It will feature local, regional and national gospel artists along with food, educational and inspirational vendors.
Performers include Jamal Davis, C Dwayne & The Voices, Gethsemane Gospel Singers, Christ Community Baptist Praise Ensemble, Kenny Curry, Zeb Harrison & The Sounds of Praise and Gospel legend John P. Kee.
The event, which starts at 5 pm, includes:
—An empowerment village with First National Bank, EXP Realty and McIntosh Law Firm will feature information on financial literacy, estate planning and real estate. Chef Jeff Hunt will present cooking demonstrations and discuss healthy eating alternatives.
—Groundwater Solutions/Genesis Project and Mecklenburg County Public Health will be on site to check vitals and provide education for diabetes, heart disease and strokes, identified as the leading causes of death of Black Americans in Mecklenburg County.
—Vendors such as Cricket Wireless, Donate Life, NC, Paparazzi Jewelry, Keen Insurance, Hansley Realty and more. Sponsors of the event include the Town of Cornelius Parks & Recreation, Walmart, Alexander Funeral Home, Coca Cola Consolidated, and Walgreens.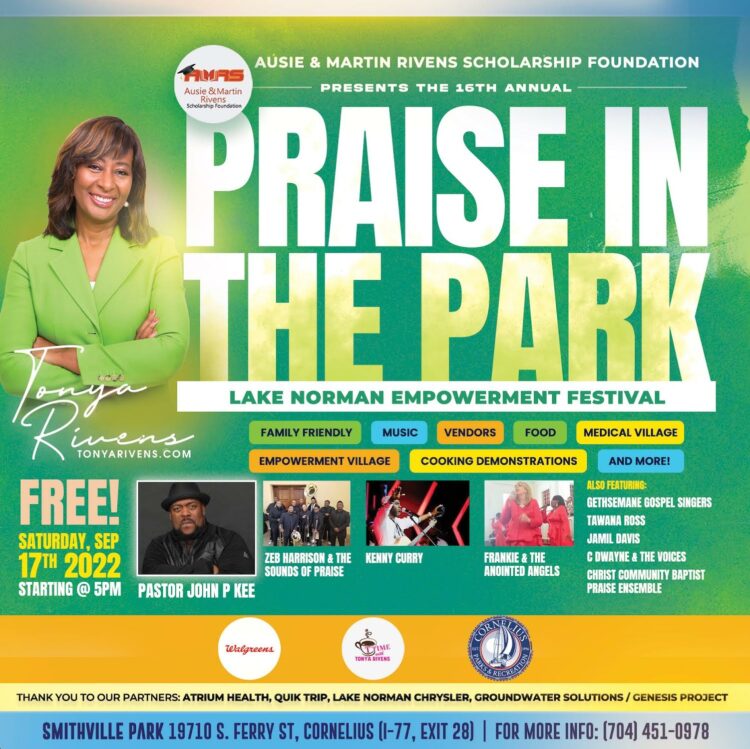 The Ausie Rivens Scholarship Foundation was established in 2004 in honor of one of the first Black barbers in Cornelius. The foundation is located at 20805 Catawba Avenue, where the original barbershop was built in the late 1950s. In August 2020, the 501c3 was renamed the Ausie and Martin Rivens Scholarship Foundation in memory of Martin Rivens, a Smithville native and an all-star baseball player at Gardner Webb University, who died suddenly on July 16, 2020. The mission of the foundation is to empower area youth by providing life skills workshops, promote healthy lifestyles, promote continued education, and provide educational and financial assistance for future employment skills and entrepreneurial success. Proceeds from the event support the AMRS mission.