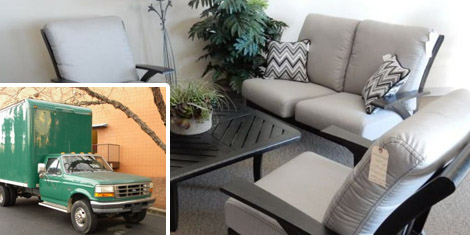 Feb 18. The contents of Porches & Yards, the outdoor furniture store in The Shops at Fresh Market, began life as an online retailer and will end online as well. The contents of the store will be sold off through an online bankruptcy auction from Feb. 18 to Feb. 25.
The current corporation was formed in 2002, but a predecessor sold high-end patio furniture online before opening in Jetton Village in 2005. Porches & Yards moved into larger retail space next to The Fresh Market in 2010.
Gregg M. Setzer, president of Porches & Yards, could not be reached for comment, but retailers around Exit 28 have had more than their share of troubles, not just because of the recession which began in 2008, but construction related to the Diverging Diamond on Catawba Avenue.
The online auction is being conducted by Iron Horse Auction Co. There will be a 15 percent buyer's premium. Brands include Troutman Chair Co., Barletta and Malin. Anything left after March 1 will be abandoned. To bid, go to ironhorseauction.com. Porches & Yards was named one of Southern Living magazine's "favorite shops" in 2003.