ELECTION DAY. Polls opened at 6:30 am at four locations in Cornelius: Bethel Presbyterian Church, Community in Christ Lutheran Church, Jetton Park and Town Hall. If you still have your mail-in ballot, drop it off to your county board of elections office by 5 pm today. Do not drop it off at a polling place.
Unlike Early Voting, which ended Saturday, you'll have to vote at your assigned precinct. Click here for more information.
All voting locations will be open until 7:30 pm. As long as you're in line at or before 7:30 pm, you'll be permitted to vote.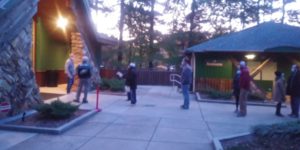 Absentee/mail-in ballots must be postmarked by 5 pm or delivered to the Mecklenburg Board of Elections by 5 pm today at 741 Kenilworth Ave. Suite 202 in Charlotte.
Social distancing is in effect in lines and within the polling place. There is hand sanitizer on site. For the local sample ballot, click here