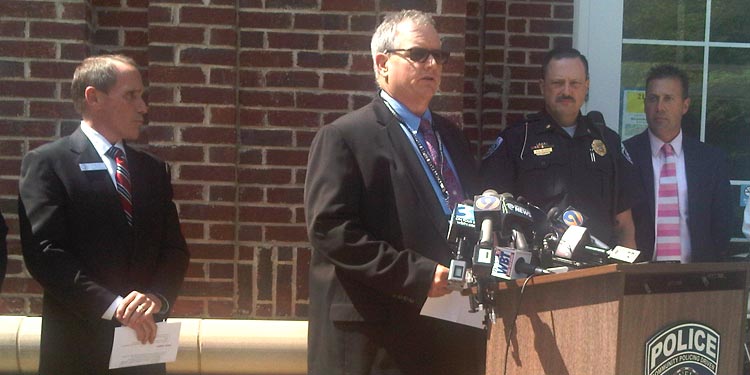 May 4. By Michael Mezquida. At a press conference on the steps of the Cornelius Police Department, the mayor and police chief thanked the community and surrounding agencies for their support in connection with the shooting of Cornelius Police Lt. James Quattlebaum.
"I really think this is the story, the positive story of how we all came together as a community," said Mayor Chuck Travis. "We had responses from Charlotte, Huntersville, Davidson and obviously all the officers in Cornelius as well, which has been a terrific effort of working together."
Police officers Jeff Heinz and Christine O'Neil were cited for their quick response in apprehending the suspect and providing critical first aid on the scene.  "We believe that had [Officer Heinz] not returned fire and shot the suspect, officer Quattlebaum or O'Neil, who was providing medical assistance, could have been shot again," said Police Chief Bence Hoyle.
The suspect Greyson Ferrell's injuries were minor; he was wearing a bullet proof vest and suffered less of an injury than the police officer did. He was not immediately transported to the hospital following the incident.
The mayor also spoke of the outreaching of fellow politicians who called him to express their concerns including a call from US Sen. Thom Tillis. From all indications, Lt. Quattlebaum is doing well. He was seen standing and speaking with fellow officers outside his hospital room this morning when he was visited by the mayor.
Additional limited details of the shooting were also revealed at the press conference. Chief Hoyle added some clarity as to the extent and nature of the gunshot, which contradicted what the mayor had said just minutes earlier. When Cornelius Today cited the conflicting accounts of the gunshot wound that had earlier been described as internal, Hoyle said the officer's bullet-proof vest had not been penetrated.  "Let me correct that then," said Hoyle, "The officer's vest saved his life."