April 20. By Dave Vieser. The Smithville Revitalization Plan continues its path through various boards and committees in Cornelius. The plan calls for workforce housing, rehabilitation of existing properties and subdividing some properties in the historically Black community just east of I-77.
On Monday April 19, some 75 people, including Black residents and Whites, urged its approval before the Town Board. They are seeking $6.6 million in funds from the $9.6 million expected to be received by Cornelius from the American Rescue Plan Act.
No decision will be made by the commissioners until the plan has been reviewed by a variety of town committees.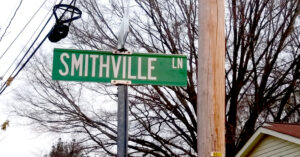 That said, the town budget must be approved in time for the July 1 start of the new fiscal year.
The Planning Board, Park Board and Mayor's Housing Committee have all recommended approval of the plan according to Deputy Town Manager Wayne Herron.
"There will also be reviews by the Architectural Review Board and Transportation Advisory Board during the month of May," Herron said.
The Historic Preservation Committee also heard a presentation this past month.
In March, the Mecklenburg County Board of Commissioners unanimously approved a $3 million grant from the American Rescue Plan for Smithville revitalization.