Sept 5. Carrigan Farms begins its fall activities with apple picking starting today.
Apple Picking at Carrigan Farms in Mooresville is an authentic pick-your-own experience, with tractor-drawn hayrides that visit the orchard and include a half-peck bag of apples. Reservations are required for apple picking and are available for the entire season, which is anticipated to last through Sept. 29.
The cost for apple picking is $15 per person. The farm and the food truck are both cash only.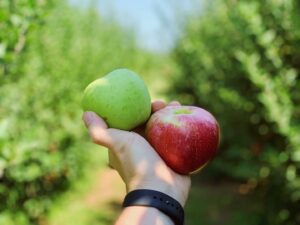 The apple trees in the orchard are on dwarf rootstock, meaning they are short, so no ladders are needed for picking. Carrigan Farms' apple orchard contains both red delicious and golden delicious apple trees.
On weekends in September, a food truck is available at the farm serving apple cider donuts and apple cider slushies.
In October, Carrigan Farms hosts pumpkin picking with pumpkins available to pick right off the vine in the pumpkin patch. Scarrigan Farms, haunted trail takes place on select evening nights.