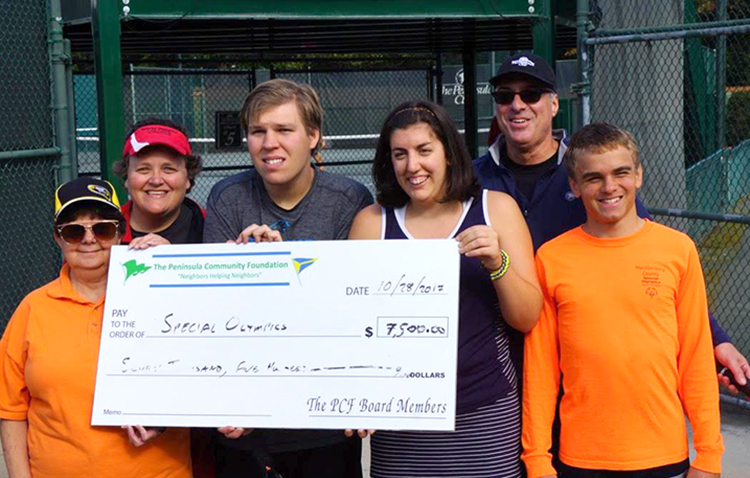 By Kate Stevens​. For the fifth year in a row, the Peninsula Community Foundation has raised more than $100,000 to distribute to North Mecklenburg County charities to help address the unmet needs of the area's young, poor, elderly and handicapped.
In 2017, the Peninsula Community Foundation raised $117,000 for local charities, said Caroline Stevens, foundation board member.
The largest amount of funding went to the Ada Jenkins Center and to providing college scholarships for two high school students at William A. Hough High School in Cornelius and two students at Hopewell High School in Huntersville.
The non-profit organization, made up entirely of volunteers and led by a volunteer board of directors, is launching its 2018 campaign as well, and seeks to raise even more money than last year.
"$150,000 would be a terrific amount every year to raise and give away and make an impact," said Stevens.
The Ada Jenkins Center received $20,000 from the Peninsula Community Foundation in 2017 because the organization itself works hand-in-hand with other groups like Safe Alliance and the Lake Norman Community Health Clinic to help the community, said Stevens.
Each of the four high school students selected for scholarship funding will receive $1,000 annually for four years, Stevens said.
Rounding out the top five area organizations provided funding by the Peninsula Community Foundation in 2017 is Caterpillar Ministries, a mentoring program for children in Huntersville's Huntington Green mobile home community, Scouting for Soccer, an organization promoting youth soccer,; and Classroom Central, an organization providing school supplies for low-income students.
Stevens likened the groups selected for grant funding to a "mutual fund basket of charities" where, like a trusted stock portfolio, people can be sure their money will go towards many local, diverse organizations helping people in their own communities.
Since its inception in 2002, the Peninsula Community Foundation, a ​registered 501(c)3, has raised more than $1.1 million for local organizations.
Organizations interested in receiving grant money from the foundation must fill out a grant proposal found on the foundation's web site, www.thepeninsulacommunityfoundation.org, Stevens said.
There is no set budget for the organization's annual philanthropy and the foundation has a negligible overhead, Stevens said.
Once a grant request has been received, it is reviewed before the grant committee to ensure the organization has clear, measurable goals that help people in Davidson, Cornelius or Huntersville, before being approved by the board of directors, Stevens said.
"It's just who comes to us and how it fits the mission," Stevens said.
Annual Fund donation letters to solicit support for charities in 2018 will be sent in early March, Stevens said.
There is also a foundation fundraiser event the weekend before Thanksgiving, she said.
In 2016, the foundation held a "Roaring Twenties" themed-gala to fundraise but decided against spending the money on such an event for the following year.
Instead, the foundation held a farm-to-table fundraising dinner called "Eat, Drink & Be Giving" campaign last year that Stevens said was very successful.
A third possible fundraiser called the "Nosy Neighbor Kitchen Tour," where people donate money to walk through newly renovated neighborhood kitchens in the Peninsula Community, could be scheduled during the holidays, Stevens said.
For more more information about the Peninsula Community Foundation, visit its web site at www.thepeninsulacommunityfoundation.org.