June 2. UPDATED 10 pm. A peaceful protest was under way in the center of Davidson late this afternoon and one is planned for tomorrow in Cornelius. Large, peaceful crowds were gathered in Charlotte early this evening where the city has declared a State of Emergency.
Davidson Police Chief Penny Dunn engaged with roughly two dozen protesters who gathered along Davidson Concord Road between Davidson College Presbyterian Church and the Village Green at Main Street.
Carrying "Black Lives Matter" signs, the protesters said they hoped to accomplish long-lasting change here and across the country.
Tomorrow in Cornelius, there will be a demonstration in front of the Police Department between 4 pm and 7 pm. Cornelius Police said they have met with the organizers who said they are planning a peaceful demonstration.
NEW: Chief Dunn said the organizers are Hough High students.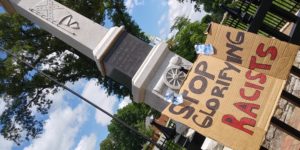 Until today the only visible sign of anger in Cornelius was a hand-made sign posted sometime Sunday on the fence surrounding the Confederate Monument on Zion Avenue. Cornelius has a brief history of demonstrations: Anti-toll gatherings on the I-77 bridge at Exit 28.
Worldwide anger
Anger has erupted around the world in the week following George Floyd's death at the hands of a Minneapolis policeman who has been charged with murder.
In a message to residents, Chief Dunn said, "the men and women of the Davidson Police Department condemn brutality of all kinds.  An act of police brutality diminishes public trust and, most importantly, the relationships we build in our community."
President Bush speaks out
Former President George Bush said he and his wife Laura Bush are "anguished by the brutal suffocation of George Floyd and disturbed by the injustice and fear that suffocate our country."
It is a strength when protesters, protected by responsible law enforcement, march for a better future.
"This tragedy — in a long series of similar tragedies — raises a long overdue question: How do we end systemic racism in our society? The only way to see ourselves in a true light is to listen to the voices of so many who are hurting and grieving. Those who set out to silence those voices do not understand the meaning of America — or how it becomes a better place.