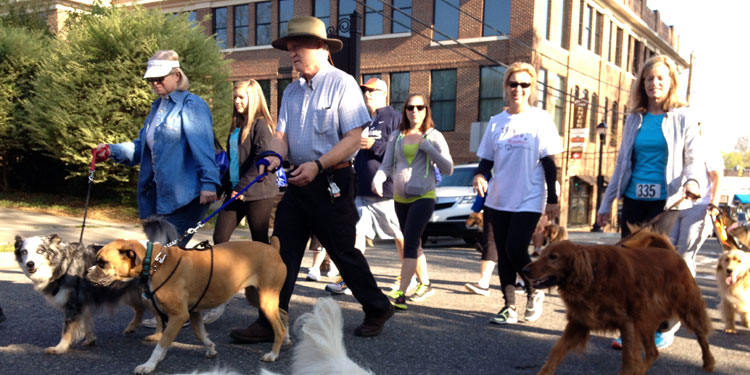 Want to make a difference by walking your dog?  Pawz Too Run on Saturday, Oct. 10 is a fun family on the Village Green in Davidson.  The day starts off with a 3K Celebrated Dog Walk (1.5 K/ 1 mile optional) followed by dog contests and awards.   Vendors will be on hand with items and services focused on the health and well-being of people and their pets.  Adoptable Dogs will be showcased by area rescue organizations and will participate in a parade of rescue dogs.  The event will make a difference in the future of animal welfare in our community by helping Friends of the Animals build a state-of-the-art Pet Education and Adoption Center.  The new center is under design now.
"Pawz Too Run" was the brainchild of Joanna Copio who started the event in eighth grade to make a difference for the animals in our community.   This fall Joanna goes off to college in pursuit of a career path in animal science and veterinarian medicine.  "What a legacy this remarkable young girl has given our community, says Friends of the Animals Executive Director Patrice Reynolds. "If the youth of today are anything like Joanna, as concerned and motivated to impact the quality of life for all who share our community, then our future is in good hands".
You can help ensure that better future for homeless pets by participating in the Fifth Annual Pawz Too Run Dog Walk with Community Vendor and Adoption Fair.  In fact, register in the Dog Walk and start a team –  gathering others from your work, neighborhood or simply enroll the entire family.   Sponsorships and vendor opportunities are available.  The dog walk starts at 10 am.  The vendor and adoption fair are from 10 am to 3 pm. There will be educational sessions and all activities will feature health and wellness for canines and their humans.  There will be live acoustic music, as well as new cars on display from our Champion Sponsor Lake Norman Chrysler, Dodge, Jeep, Ram.
Friends of the Animal's goal is to build a state-of-the art pet education and adoption. The new center will serve the greater Lake Norman region by caring for up to 100 adoptable dogs and cats at any one time.  Adoption, low-cost spay /neuter services and education will be the cornerstones of the new center.   For more information about the event or to register to walk, visit www.FriendsoftheAnimals.net