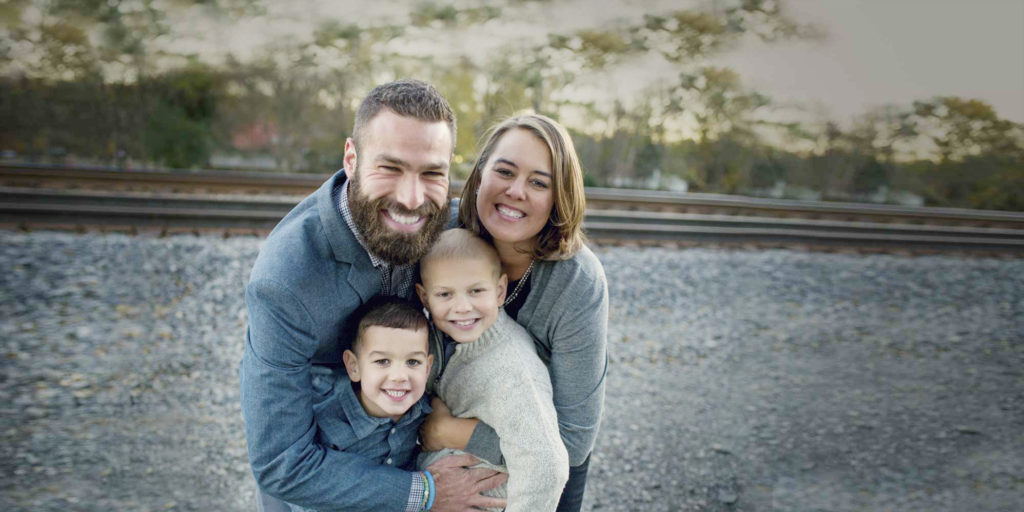 Fundraisers for research are June 4th & 5th
Allison and Jon Cowherd are doing something about childhood cancer: They're organizing the Pound Out Pediatric Cancer Community Event Sunday June 4 at Oak Street Mill. And they're also running the Pounding for Parker Golf Tournament June 5 at Northstone Country Club.
Proceeds from both events will benefit the Pounding for Parker Foundation, a 501(c)3 non profit dedicated to advancing research for pediatric cancer, particularly low-grade glioma tumors and improving the quality of life for childhood cancer survivors.
"The more we learn about the lack of research being done for pediatric cancer, the more motivated we've become to change that, and that's why we've created the foundation," says Allison, whose father is Carl Yost, the former long-time pastor at Community in Christ Lutheran Church in Cornelius.
In 2015, the National Cancer Institute budget was $4.93 billion. Childhood cancer received 4 percent, or $198 million. Of that 4 percent, only a tiny percentage goes toward pediatric brain tumors and even less goes to children with low grade glioma brain tumors like the Cowherd's son, Parker, who is
8 years old.
The Cowherd's lives changed forever when Parker was diagnosed with an extremely rare glioneuronal tumor; cancer which had spread down his spine and up into his lower brain.
This type of cancer occurs in only 2 percent of children. Parker's cancer is being treated as a lifelong managed condition; his tumor is inoperable.
Chemotherapy and radiation are the only treatment options available, but the two chemotherapy medications that Parker is taking right now were approved by the FDA more than 30 years ago.
"Our family was in disbelief; the more we learned about how few dollars were being allocated to fund research and fight pediatric cancer the more
motivated we became," says Allison, who is president of Pounding for Parker.
The Cowherds, who live in Weatherstone, are both 33 years old; they've been married 10 years. Parker's little brother, Owen, is 5. Jon is in supply chain management, while Allison is a stay-at-home mom who has also launched Lake Norman Local Apparel Co.
When Parker is in the hospital for chemotherapy, his teacher, Michelle McConnell, uses FaceTime so Parker's classmates can talk to him.
"Having things like that keep his spirits up," Allison says, explaining that Parker is in the hospital from 8 a.m. to 5 p.m. on chemo days two and three times a week. "Now it knocks him out and he doesn't feel really good."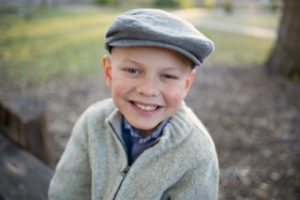 Parker will always have this condition unless there is some kind of breakthrough. He receives occupational and physical therapy once a week.
"The doctors are wonderful but there is only so much they can provide to these children," Allison says. "You hear about immunotherapy for adults, but there's not much happening around advances in pediatric cancer."
---
Fight pediatrics cancer by supporting research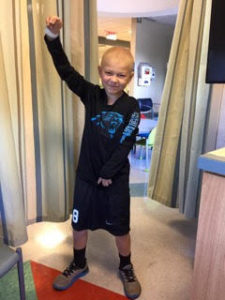 Pound Out Pediatric Cancer
Community Event
Sunday June 4. 4:30 p.m. to 8 p.m. Old Town Cornelius + Kadi Fit. Food trucks, craft beer, silent auction,  art activities
——————————-
Pounding for Parker
Golf Tournament
Monday June 5. Noon Shotgun Start. Northstone Country Club. $150 per player, includes lunch, dinner
More info:
poundingforparker.com