Dec. 28. By Lori Tate. Donna Frazier has a superpower: She gets kids excited about doing chores. Frazier, affectionately known as Maw Maw, is the head custodian at Community School of Davidson (CSD), a North Carolina public charter school.
Every day after school, the "Trash Kids," mainly children of staff members, scurry around the school emptying trashcans under Frasier's supervision. She pays the kids a dollar a day, plus a little bottle of water and one piece of candy, all out of her own money. Kids clamor to become a Trash Kid.
On Dec. 23, Frazier turned 80 years old, and the staff and students at CSD honored her with a surprise drive-by parade that day. Participants dropped off cards, letters and works of art to help Frazier celebrate this special day.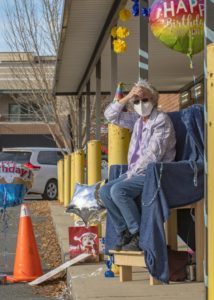 Frazier came to Davidson from Virginia in 2001 to help her daughter, Joy Warner, open CSD, now a highly acclaimed school of 1,300 students in grades K-12. Frazier's husband, Hal, also worked at the school and was affectionately known as Paw Paw until his passing in 2018.
When the pandemic hit last spring, CSD students moved to virtual learning, leaving the school building empty. Maw Maw was heartbroken that she couldn't be with her students on a daily basis, as she thinks of them as her grandchildren. Earlier this fall when CSD moved to a hybrid model, Maw Maw was ready to go.
"She insists on working and taking care of the school and her kids," explains Juli Gardner, director of CSD's elementary and middle school. "She wears her mask and shows up every day. Maw Maw knows that cleanliness is more important now than ever."
—Lori Tate is an editor, writer and blogger who lives in Cornelius with her husband, 10-year-old twins, two cats and puppy. You can read what she's thinking about at winksofgoodness.com.