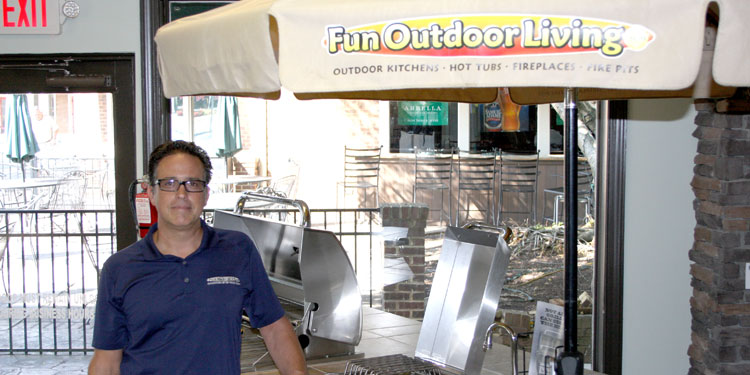 By Dave Vieser. Fun Outdoor Living, which sells hot tubs, outdoor kitchens, stone patios and many similar items, has expanded to the old Observer Building in the Shops on the Green in Cornelius. It's their third store within the Charlotte area, and owner John Difiore, a Brooklyn, N.Y., native, says Cornelius is the perfect spot for his business to grow.
"I feel that Cornelius is the center point for the Lake Norman area" DiFiore said. "Also the age and the price point of the homes in this area fits perfectly with our business model."
In addition to expanding into Cornelius, the entire family—wife Debbie and three children ages 17, 15, and 14—are moving to Cornelius from Mint Hill.
Fun Outdoor Living
Former Charlotte
Observer building
Torrence Chapel Road/
Shops on the Green
704-684-1203
www.funoutdoorliving.com
Difiore, 48, has been in the exterior remodeling industry since 1985 and working in the Charlotte market since 1995. "I have always loved the Cornelius area so the choice was clear when we looked at expansion to the north side of the market we serve."
Difiore's business strategy involved creating a complete, interactive outdoor living and design center along with a full line of patio furniture. The original location and distribution center opened in 2004 in Indian Trail. In 2013, he opened a second store in Pineville.
Between phone calls and handling walk-in customers, Difiore admitted that his biggest challenge is "finding and keeping good people to run my company and serve our customers the way my wife Debbie has done it for years."
Retail Notes
Hungry Howie's is opening 18059 W. Catawba Ave. Known as the "home of the original flavored crust pizza," Hungry Howie's has more than 550 locations in 21 states. Founded in Taylor, Mich., in 1973, Hungry Howie's has emerged as a major competitor in the pizza marketplace.
º   º   º
Village Inn will open at 20129 N. Main St. in the Food Lion Center in the old Bellacino's space. This is the newest in a chain of family restaurants that first opened in 1967 in Statesville. They credit their success to homemade sauce and dough. Popular menu items include spaghetti, sandwiches, home-made soup selections, chicken wings and 40-plus items salad bar.