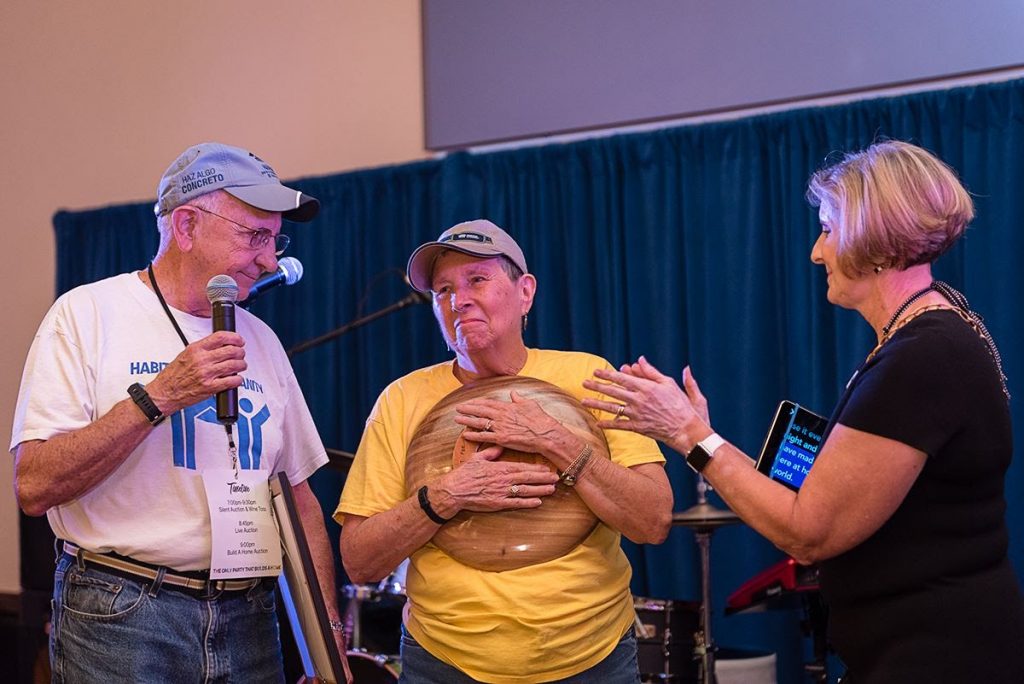 Sept. 21. Our Towns Habitat for Humanity has given the Founders Award to Paul and Judy Leonard for their more than 30-year commitment to the Cornelius-based non-profit.
At the inaugural Builder's Bash—which raised more than $45,000 for new home construction—Chris Ahearn, CEO of Our Towns Habitat, said the Leonards embody servant leadership.
"Years ago, they had faith that a then-fledgling Habitat affiliate in the Lake Norman area could help ensure that everyone has a decent place to live. Their leadership and ongoing commitment are the reason Our Towns is the affiliate we are today," she said.
Paul, a Davidson College graduate, has served on the board of Habitat for Humanity International, and as interim HFHI CEO from 2004 to 2005.
Judy spearheaded the first Women Build for Our Towns Habitat.  She also served on the board of Habitat Charlotte and chaired the family services committee, volunteering four to five days each week.
Both Paul and Judy have served in various leadership roles at the Our Towns Habitat and Charlotte Habitat affiliates and have volunteered on Habitat builds across the globe, building homes on five continents.
The Leonards continue to provide Habitat volunteer opportunities for Davidson College and Queens University students. Nationally, they remains active on builds, including one three weeks ago with President Carter in Indiana.
In a letter congratulating the couple, President Carter called the award, "a fitting recognition of your dedicated service to the cause of affordable housing, and the stability, pride and hope that a safe and proper home gives a family."
The presentation to the Leonards was held at a cocktail party which featured live and silent auctions and provided guests with firsthand accounts about the power of homeownership from Habitat homeowners.
Our Towns Habitat announced the creation of the Paul and Judy Leonard Foundation Builder's Fund with an initial $10,000 contribution. The ongoing fund will be used to purchase land and carry out the Leonard's legacy of building homes for local families.
Through Our Towns Habitat's homeownership program, people can partner with Habitat to build their own home alongside volunteers, then pay a mortgage they can afford. More info: ourtownshabitat.org