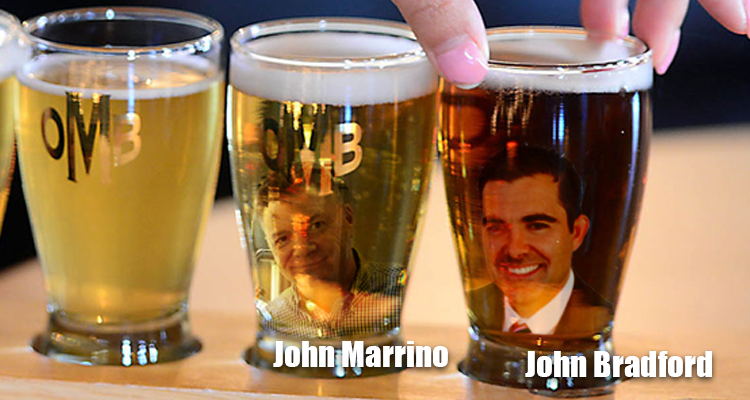 April 25. By Dave Vieser. The failure of the State Legislature to expand the annual 25,000 barrel cap for craft breweries may not have flattened the Olde Mecklenburg Brewery economic development project. NC Rep. John Bradford hopes to save it with a Hail Mary compromise that would raise the production cap for craft brewers.
At stake is Olde Mecklenburg Brewery's plan to build a $10 million facility here if the law is changed. As the law stands now, brewers must craft an agreement with a wholesaler if their annual production exceeds 25,000 barrels. Wholesalers succeeded last week in removing a provision from a bill that would have raised the cap.
"This is too important for my district to ignore considering there's a $10 million economic development project on the line," said NC Rep. John Bradford, a Republican from Cornelius.
Bradford said a compromise is still possible. He is asking both sides to talk.
"This is very disappointing news, " said Cornelius Commissioner Dr. Mike Miltich. "Many of us in Cornelius and the surrounding towns were eagerly anticipating having our own Beer Garden such as what OMB has created in Charlotte. With the cap still in place, it raises concerns that the brewery and beer garden won't be on the scale that it could be."
It's a key piece of the economic development puzzle for Cornelius. A hip brewery, complete with a restaurant, would drive people to the OMB site, just north of downtown on Zion Street. OMB bought the old Curtis Screw plant there in January. The town has apparently promised tax incentives if the project is built.
Hinting that legal action may be forthcoming, John Marrino of OMB said he's not sure at this point that the General Assembly is "the best avenue to ensure the success of the micro-brewery industry in North Carolina." If the 25,000-barrel cap remains in place, Marrino said he may not be able to build in Cornelius.
He planned on spending $7 million on the Cornelius expansion, hiring more than 100 people.
The beer bill has been one of the most closely watched pieces of legislation this session. Under current law, small brewers may distribute up to 25,000 barrels of beer on their own. If they produce and sell more, brewers must enter an agreement with distributors. Distributors are merely middlemen between brewers and the retail outlets, like restaurants, that sell beer. Distributors are more helpful to small brewers just starting out, as opposed to the larger craft brewers.
House Bill 500 would also drop language that would have allowed brewers to more easily break their contracts with wholesalers.