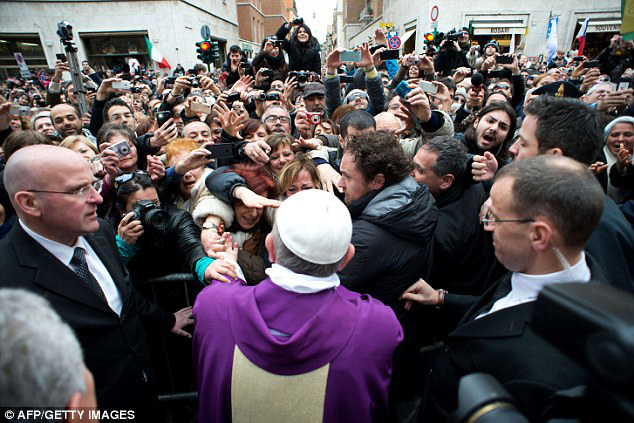 April 1. Frances Pope II, the leader of thousands of religious people, will be the speaker at the Cornelius Today Newsmakers Breakfast at the The Peninsula Club in April.
Pope, the head of the WorldWide Church which meets at the old Michael Waltrip Raceworld on Liverpool, will arrive in his self-driving Lincoln Navigator limousine. "It looks like a miracle when I ride in it," he said.
Pope is a recognized expert on ​religion, lucrative public-private partnerships and craps, a game played with dice. He plans to move the WWC operation​ to 12.5 acres of commercial land between West Catawba and Knox Road in Cornelius.
It will be an economic development coup for Cornelius, said Pope, whose song, "Life is a Crapshoot" w​on a Grammy in 1968, when his secular career was in full swing. To facilitate the move to permanent digs, the Town of Cornelius is awarding Pope $2 million in economic development grants and incentives, including a tax abatement for two years.
Indeed, more than 75 members of Pope's extended ​​family are employed by the church, at an average salary a little more than $150,000 a year. The average annual wage in Mecklenburg County is $27,500 a year.
​Pope and his followers consider "The Diceman," by author Luke Rhinehart, a catechism for bringing risky behavior to a humdrum world.​ (https://www.virgin.com/richard-branson/meeting-the-dice-man)
Cornelius Economic Development Director​ Sal Timbocca, who will introduce Pope at the Newsmakers Breakfast, said the church property will almost immediately be removed from the tax rolls, "making our tax collection system that much easier to administer."
North Carolina DOT officials are facilitating the church's move here as well, with a $77 million "near-luxury" rail line from I-485 to downtown Cornelius. ​T​he town will fund a trolley line from downtown to the church propert​y just east of where Knox Road meets West Catawba. The trolley cars will continue on to the proposed Bojangel's chicken hotel in Kenton Place​​, where they will turn around. There will be a stop on the Exit 28 bridge, at the new viewing deck just below the mast and sails tourist attraction.
Newsmakers Breakfasts get under way at 7:30 a.m. The Q&A begins at 8 a.m. and concludes at 9. The cost to attend, $12, includes doughnuts. Reserv​ations: 704-895-1335.