Sure, there are luncheons to attend—there's one with spouses from both chambers with first lady Michelle Obama in April—but Susan Tillis is quietly working her own meaningful agenda in concert with her husband, U.S. Sen. Thom Tillis.
She wants to support members of the U.S. Armed Forces, their spouses and veterans.
Speaking at Cornelius Today's Newsmakers Breakfast last month, Ms. Tillis said she was moved to focus on the military after a visiting Walter Reed National Military Medical Center where she helped cook meals for wounded warriors.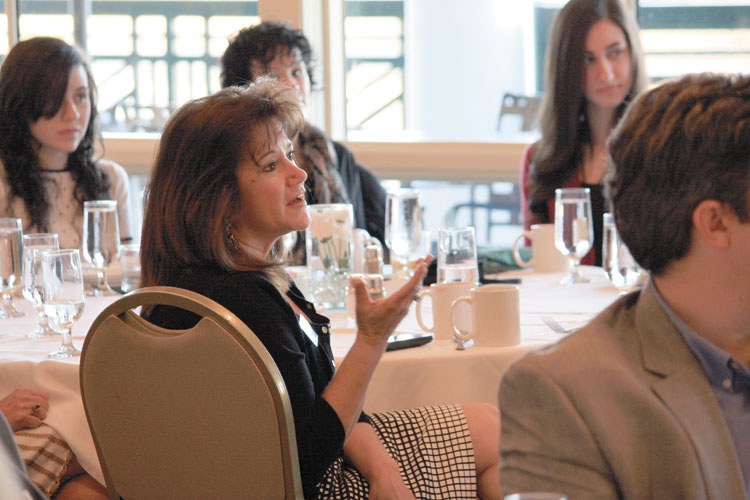 "There is also a real need in North Carolina to do something, and I wanted to do something uniquely our own on our end," she says, explaining that she is working on two or three projects or events to help military families and soldiers in North Carolina.
"You see these brave men and women, some who have been there for five years and it just breaks your heart. We've got to do more for them," she said. She is also working on a Mother's Day event for the wives "who are too often the forgotten heroes."
The former Cornelius resident, Realtor, real estate manager and mother of two grown children is no stranger to playing an active role in community service and politics.
Susan taught Sunday school, was an active PTA volunteer, Girl Scout leader and volunteered in a variety of other organizations.  In 2005, she began a successful career at Allen Tate where she was nominated Rookie of the Year her first year.  Five years later she was managing two of their offices.
Of course husband Thom had meteoric rise from PTA president to Cornelius Town Commission, and then on to the N.C. House of Representatives where he became the first Republican Speaker of the House in a century.
Susan quit her job at Allen Tate in 2013 to work full time as a volunteer on her husband's campaign for U.S. Senate. She visited more than 65 counties during her travels, checking in with military spouses, large and small businesses and mayors of small towns.
She was a capable pinch-hitter at an important campaign fundraiser at Mayor Chuck and Janice Travis' house when the Speaker of the House was stuck in Raleigh.
She told about 60 people at the Newsmakers Breakfast about her experiences during the Senate campaign, including one where Gov. Pat McCrory came up to their hotel suite at the Omni in Charlotte when it looked like Team Tillis was down by 200,000 votes statewide.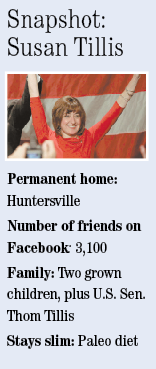 She said the governor looked at her Twitter feed and told her not to worry, he was down by a lot more in 2008.
"I finally looked at him and said, 'Pat in 2008 you lost!'" Susan's story brought down the house.
They live in a "small, old" one-bedroom apartment in a townhouse on Capitol Hill. It has exposed radiators; they pay $1,800 a month in rent.
The principal Tillis Senate office in North Carolina will be somewhere around Exit 18 on I-77. Long-time residents of The Peninsula, they now make their home in Huntersville.
She told the audience that the transition from former Sen. Kay Hagan could have definitely been friendlier. The two candidates together spent more than $125 million on the race. That said, there was enough passion around the Tillis campaign for volunteers to come in from Texas and New York, as well as teenagers around the state.
Has Thom Tillis, the quintessential guy next door, changed?
No. "Thom has always been Thom. He's going to be the same person he was when he went down the slip and slide at Big Day at the Lake. He'd rather be out in a T-shirt and shorts on his mountain bike."
"I want people to know that we want to be making a difference," she said.
The presenting sponsor of the Newsmakers Breakfast is Allen Tate Realtor Dixie Dean, a Cornelius resident. The Breakfast Sponsor is Cheri Thebeau, a Cornelius-based attorney. The Coffee sponsors are Davidson Wealth Management, Aquesta Insurance Services and Bank of the Ozarks.