June 20. By Dave Vieser. Cornelius commissioners voted 4-0 last night to increase fees for 26 different services provided by the town Parks Department. The fee hikes are expected to generate about $2,000 in additional revenue annually.
Each year, staff reviews fees and recommends changes based on use patterns, comparison with other agencies, and new services. Parks Director Troy Fitzsimmons said the increases have been reviewed and approved by the Parks Arts Recreation & Culture Board. The changes are modest, such as increasing the cost of renting a gym from $40 to $41 for residents, and from $80 to $82 for non residents. Meanwhile, the Mecklenburg County Board of Commissioners will consider waiving the weekend entrance fee at Jetton Park at their meeting tonight. It's unclear how that vote will go, but Jetton and Ramsey Creek are the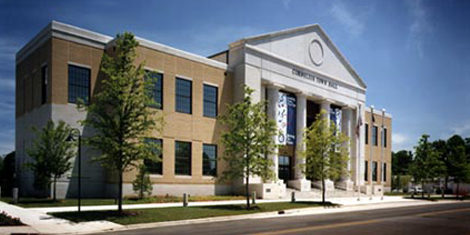 only two parks in the county park system where fees are charged.
Also at Monday's meeting, the town board:
Approved the annexation of 9.01 acres where the new Circle K convenience store is located, at the southwest corner of Bailey Road and N.C. 115. Planning Director Wayne Herron said that "one of the conditions Circle K agreed to in their development approval was to annex their property."
Authorized the expenditure of $38,444 to complete repairs to the fire department's Engine Five. The apparatus sustained damages in an ice storm related accident. Engine Five is the first due pumper from Station One and also serves as the fire department's foam unit.
Accepted $63,611 in new donations towards the town's 911 memorial at Fire Headquarters.
Honored Margaret Harmon, who celebrates her 100th birthday on June 29. Ms. Harmon has been a resident of Cornelius for 55 years and is a life time member of the First Baptist Church in Cornelius.
Mayor Pro Tem Woody Washam, the fifth commissioner, had a planned absence.