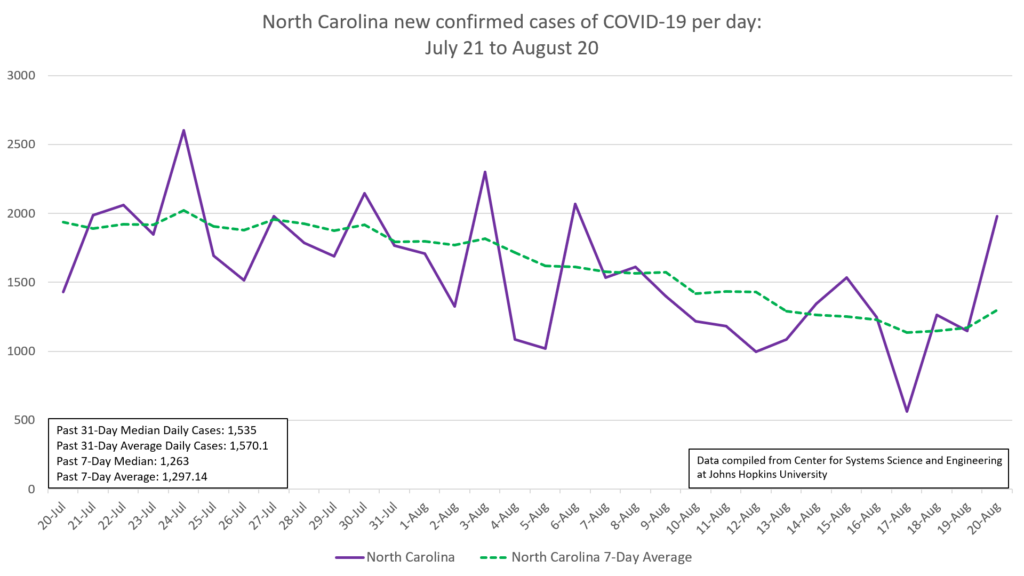 Aug. 21. By Dave Yochum. The NC Dept. of Health & Human Services today reported 2,008 new cases of COVID-19 statewide. This three-week high is 30.8 percent above the median number of daily new cases during the past month as reported by Johns Hopkins University.
During the past seven days, the median number of new daily cases per day was 1,263, based on JHU data. Yesterday's new cases rose to 1,972, a steady progression from Monday's NCDHHS report.
To review the Johns Hopkins US map of the COVID-19 outbreak, as well as world-wide data, click here.
Total cumulative COVID-19 cases in North Carolina surpassed the 150,000 mark, reaching 151,912 in today's report.
Hospitalizations: Lagging indicator
Total statewide hospitalizations meanwhile fell by 8 in today's NCDHHS report to 1,015. On July 21, there were 1,179 hospitalized due to COVID-19. One week ago, 1,049.
Deaths lag the most
There were 29 new deaths in today's coronavirus report, down from 34 new deaths yesterday. The total since tracking began in March is now 2,494 statewide. Total US deaths are approaching 175,000 as of Friday afternoon, according to Johns Hopkins.
"Death is very much of a lagging indicator, and it really tells us more about what was happening in North Carolina back in July," said NCDHHS Secretary Dr. Mandy Cohen. "We know in July…when our cases were at our highest, so it's not surprising now that our deaths have gone up a bit. I think that reflects that's what was happening in July. I expect those to be leveling off and then decline.
That said, there may be a spike of new cases coinciding with schools reopening around the state.
NC testing
Testing is climbing past the 2 million mark statewide, with positive tests coming back at the rate of 8 percent in today's report.
Cohen said a positive test rate trending downward from 5 percent is the goal. In recent days, North Carolina tests have moved upward slightly, from 6 percent last week.
Mecklenburg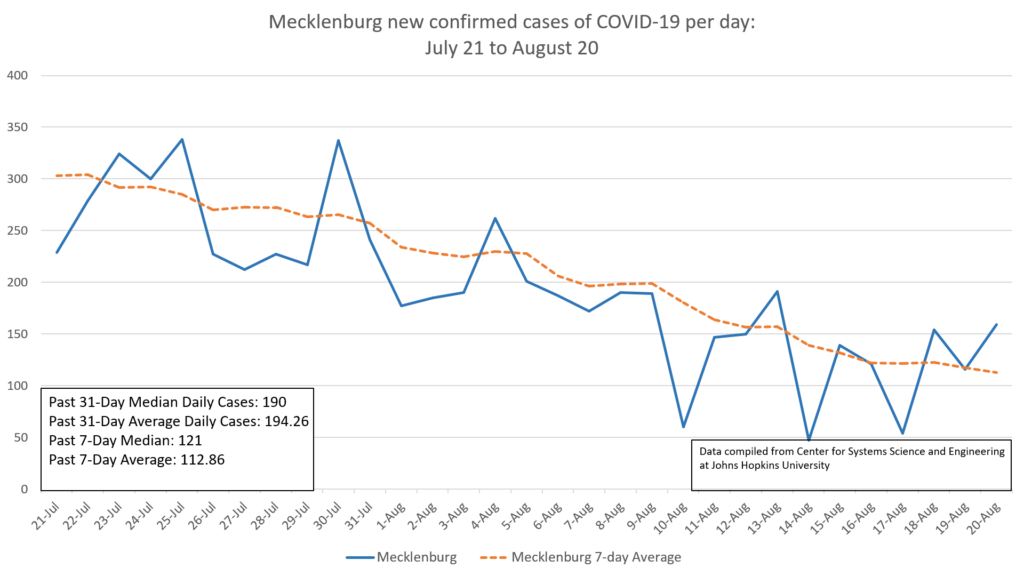 Based on data from Johns Hopkins University, the median number of daily new cases in Mecklenburg County over the past week is down 36 percent compared to the median number of daily new cases during the past month. (See chart below.)
The actual numbers, culled from Johns Hopkins University's tracking system, are 190 median daily new cases over the past month vs. a median of 121 per day during the past week.
However, NCDHHS today reported 216 new cases in Mecklenburg—up from 159 new cases yesterday—for a total of 23,809 since the outbreak began. Positive tests are running at 6 percent in Mecklenburg. In Montgomery County, where Troy is located, tests are coming back positive at the rate of 17 percent.
Over the past seven days, Mecklenburg has shared an average of approximately 8.89 percent of the state's new confirmed cases per day.
Using data from Johns Hopkins, Mecklenburg accounts for 9 percent of the state's new confirmed cases per day (7-day analysis). The proportion is down considerably from 16 percent one month ago.
North Meck
Cornelius: 3 new cases, total 396 (292 one month ago). 16 deaths total, none new in more than a month
Davidson: 4 new cases, total 223 (140 one month ago). 5 deaths total, none new in more than two weeks
Huntersville: 10 new cases, 734 total (454 one month ago). 10 deaths total, none new since Aug. 11