May 25. Willow Wood Coffee owners Rich Lytle and Sherry Augustine hope to "be the cool coffee shop, the kind people hope to find when they're traveling" right here in Cornelius.
"Building the best team, providing great customer service, having great place to gather with the right vibe—when all that comes together is when it's a super great experience for our customers" says Lytle.
They're in downtown Cornelius at 19201 S. Main, across Hickory Street from Mama's Pizza.
The coffee beans are roasted in Statesville and delivered same day.
No plastic, thank you
Coffee drinks are served in doubled-walled glass mugs showcasing the layers of the craft drinks, like the "Oh Wow" that has peanut butter and white chocolate layers with the espresso. Stir sticks are actually made of fettuccini.
Lytle and Augustine take coffee grounds to the Cornelius Community Garden for compost.
Willow Wood Coffee, open seven days a week, is located at 19201 S. Main Street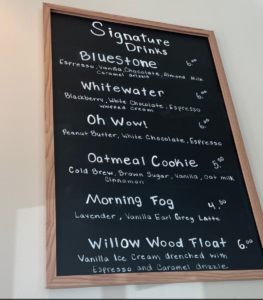 Website: willowwoodcoffee.com