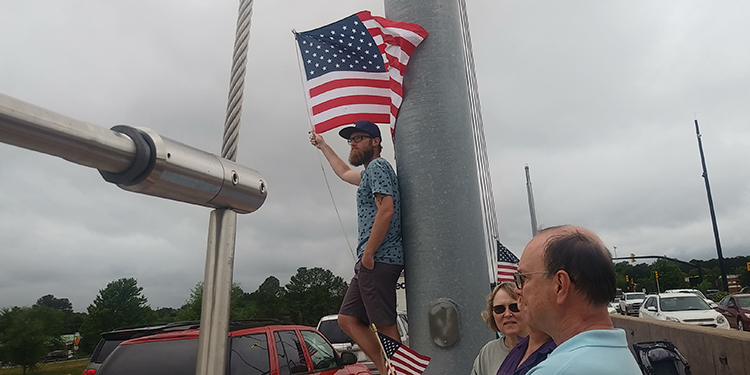 May 10. By Dave Yochum. ​Lily Wheeler​, age​ 11​,​ counted at least 562 ​First Responder v​ehicles​ in the procession this afternoon ​in honor of slain Officer Jordan Sheldon. She was
part of a crowd in the hundreds that turned the I-77 bridge on Catawba Avenue into a gathering place for community grief and respect.
Cornelius Police and Firefighters helped clear Catawba as I-77 northbound was closed for the procession—complete with motorcycles, police cars and fire trucks—to pass.
The 14-mile procession took about 45 minutes to pass in on-and-off light rain.
Southbound travelers, under no obligation to stop, did so and stood at attention on I-77 as the procession passed on the other side of the guardrail.
The drivers of many of the First Responder vehicles passing below punched their sirens as people on the bridge saluted, all in honor of ​K-9 Officer Jordan Sheldon who was killed in the line of duty during a routine traffic stop last Saturday in Mooresville.
There was a mix of young and old on the I-77 bridge, some standing precariously atop the walls to the pedestrian walkway. There were presidents of companies, children and Millennials holding flags and standing at attention.
Cornelius resident Diana Rochester said this: "God bless Officer Sheldon and his family. God bless every law enforcement officer and first responder everywhere. Every day, each officer reaches out to help and serve…they always go the extra mile. I see it over and over. We can never appreciate them enough."