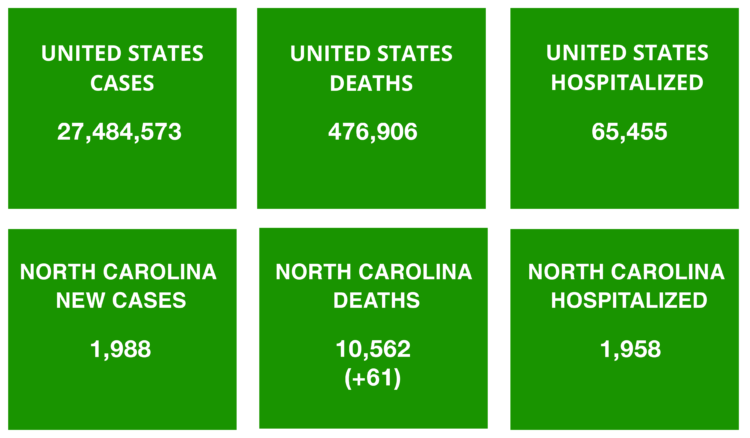 Feb. 16. The NC Dept. of Health & Human Services at noon reported statewide hospitalizations at 1,958 today, slightly higher than yesterday, but half that of one month ago.
There were 1,998 new cases of the coronavirus in today's NCDHHS report, down from 1,988 new cases yesterday. Exactly one month ago, there were 7,986 new cases Jan. 16. To view the NCDHHS dashboard, click here.
Deaths
Statewide there were 61 new deaths, up from 10 yesterday. During the week that began Jan. 25, there was an average of 91 deaths per day.
Testing
The statewide positive test rate is at 7.4 percent. The Mecklenburg positive test rate is at 8.5 percent.
Vaccinations
NCDHHS reports 1.153 million first doses have been administered; 513,815 second doses.
Mecklenburg
There were 277 new cases of COVID-19 county-wide, up from 245 new cases yesterday
There was one new death related to COVID-19.
North Mecklenburg
Cornelius: 5 new cases; 2,391 cumulative; 21 deaths total.
Davidson: 7 new cases; 1,346 cumulative; 15 deaths total.
Huntersville: 11 new cases; 4,915 cumulative; 46 deaths total.
New case medians week vs. month
The volume of new COVID-19 cases this past week vs. the past month is down 28 percent, based on data from Johns Hopkins.