Nov. 16. By Dave Yochum. The raw numbers are still sorting themselves out because of a change in reporting criteria, but the NC Dept. of Health & Human Services today did report that positive tests are still stuck about 3 percentage points higher than the goal of 5 percent.
The NCDHHS reported 1,972 new cases statewide, down from 3,117 new cases yesterday and 3,885 new cases reported Saturday.
There has been a one-time adjustment in the way new cases are reported on the health department's website. On Friday, the NCDHHS reported a smaller total due to a shorter time window. At the same time, COVID-19 hospitalization data rose to match the Centers for Disease Control methodology. Previously, the CDC required that hospitals report patients only when they were under isolation precautions, which is typically a maximum of 21 days. Because patients may suffer the effects of COVID-19 for a longer period of time, the CDC now requires that hospitalizations be reported for the entire length of stay.
Total cases
The cumulative total of COVID-19 cases now stands at 314,207 statewide. The average number of new cases over the past week is now running 14.2 percent ahead of the average number of new cases over the previous 31 days based on data collected by Johns Hopkins University (2,699 over 7 days vs. 2,364 over 31 days.)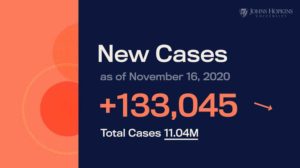 Nationwide, JHU is reporting more than 11 million cases, more than 246,000 deaths and 4.2 million recoveries.
Testing
Tests are coming back positive at the rate of 8.1 percent statewide. In Mecklenburg County, positive tests are running at 7.2 percent. The goal is to trend down from 5 percent.
Hospitalizations
Hospitalizations statewide were at 1,424, up from 1,395 Sunday, according to the NCDHHS.
Deaths
There were eight new deaths statewide due to COVID-19, down from 50 yesterday. A total of 4,814 North Carolinians have died due to the COVID-19 pandemic.
Mecklenburg
In Mecklenburg County, there were 231 new cases in today's NCDHHS report. There have been a total of 417 deaths countywide, with eight occurring in the past week. Mecklenburg deaths stand at 417, up eight over the week.
North Mecklenburg
Cornelius: 7 new cases, 817 cumulative; 17 deaths total.
Davidson: 3 new cases, 428 cumulative; 7 deaths total.
Huntersville: 16 new cases, 1,499 cumulative; 14 deaths total.