Nov. 10. By Dave Yochum. North Carolina's number of new coronavirus cases per day rose back over the 2,000 mark, hitting 2,582 in today's NC Dept. of Health & Human Services report.
The volume of new cases over the past week is 7.6 percent ahead of the median number of new cases over the previous 31 days based on data collected by Johns Hopkins University.
During the week after Labor Day, the median number of new cases in North Carolina was 1,086, 14 percent below the previous 31 days.
Nevertheless, the number of new COVID-19 cases has eased off record increases set last week, including 2,908 new cases recorded on Friday. Nationwide, the coronavirus case count has climbed over 100,000 per day in recent weeks.
Today's new case total nationwide as per Johns Hopkins was almost 120,000.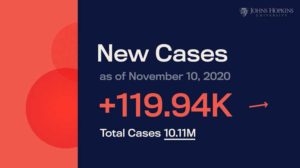 In North Carolina, the cumulative total now stands at 297,442 since the outbreak began in March.
In Mecklenburg County, there were 380 new cases, a record, with NCDHHS reporting 14 new cases in Cornelius and 26 new cases in Huntersville.
Testing
Tests are coming back positive at the rate of 7.5 percent, back over the 7 percent mark. In Mecklenburg County, positive tests are running at 6.6 percent. The goal is trending downward from 5 percent.
Deaths
There were 45 new deaths statewide due to COVID-19, up from 22 Saturday, 2 on Sunday and eight on Monday. A total of 4,615 North Carolinians have died because of the COVID-19 pandemic.
In Mecklenburg, there were no new deaths from Monday's report.
Hospitalizations
Hospitalizations statewide were at 1,230 in today's NCDHHS report, down from 1,169 yesterday.
North Mecklenburg
Cornelius: 14 new cases, 772 cumulative; 17 deaths total.
Davidson: 6 new cases, 405 cumulative; 7 deaths total.
Huntersville: 26 new cases, 1,405 cumulative; 14 deaths total.