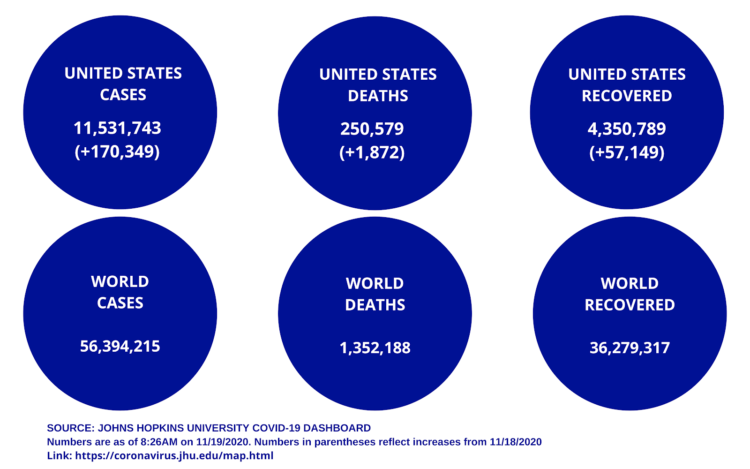 Nov. 19. By Dave Yochum. New COVID-19 cases statewide rose through the 4,000 mark today, reaching 4,296 today, according to the NC Dept. of Health & Human Services.
The record high is 10 percent ahead of the previous record of 3,885 new cases reported five days ago on Saturday, Nov. 14.
COVID-19 hospitalizations, which climbed above the 1,500 mark on Tuesday, rose from 1,537 yesterday to 1,538 today.
"I am very concerned. We are seeing warning signs in our trends that we need to heed to keep our family and friends from getting sick and ensuring our hospitals are able to care for those that have serious illness," said NCDHHS Secretary Mandy K. Cohen.
Total cases
The cumulative total of COVID-19 cases now stands at 325,158 statewide.
Nationwide, Johns Hopkins University is reporting more than 11.5 million cases and more than 250,000 deaths. Some 4.35 million Americans have recovered from the coronavirus.
Testing
Tests are coming back positive at the rate of 7.9 percent statewide, down from 9.2 percent yesterday. In Mecklenburg County, positive tests climbed to 7.6 percent, up from 7.4 percent yesterday. Health officials look for positivity rates at 5 percent and lower.
Deaths
There were 38 new deaths in today's NCDHHS report, for a total of 4,936 North Carolinians who have died due to the COVID-19 pandemic.
Mecklenburg
In Mecklenburg County, there were 390 new cases in today's NCDHHS report, up from 323 new cases yesterday. There have been a total of 426 deaths countywide.
North Mecklenburg
Cornelius: 17 new cases, 854 cumulative; 17 deaths total.
Davidson: 10 new cases, 447 cumulative; 7 deaths total.
Huntersville: 34 new cases, 1,579 cumulative; 14 deaths total.
New cases: Last week vs. past month
The median number of new cases over the past seven days is running 20 percent ahead of the median number over the past 31 days, based on NC data from Johns Hopkins University.