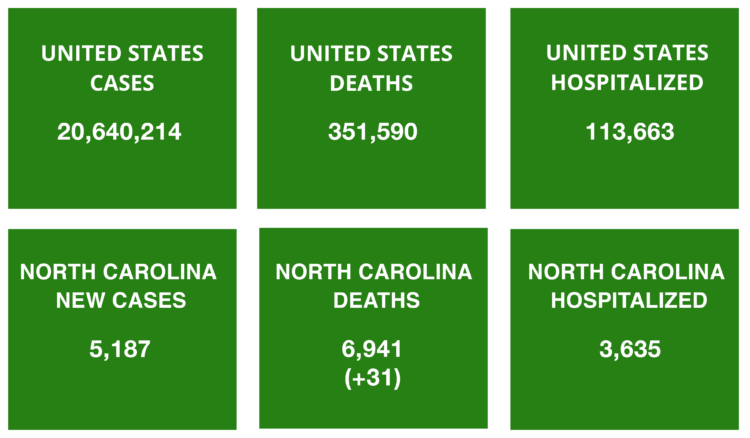 Jan. 4. The number of patients hospitalized with coronavirus in North Carolina today hit a record 3,635, up from a record of 3,576 people set on Sunday, according to the NC Dept. of Health & Human Services.
Hospitalizations statewide due to the coronavirus are up 443, or 13.8 percent, in the past week.
New cases increased somewhat less rapidly—by 5,187 in today's report. The NCDHHS on Sunday reported 6,487 new COVID-19 cases, down from 9,365 reported the day before and the record 9,527 reported Friday.
There have been 570,111 cumulative statewide since the outbreak began in March.
A record 16.5 percent of COVID-19 tests came back positive in today's NCDHHHS report. Four of the six highest percent positive readings have occurred in the past week.
Deaths
There were 31 new deaths statewide in today's report. Total statewide deaths due to the coronavirus reached 6,941, an increase of 380 in the past week. In North Mecklenburg, there were two new deaths in Cornelius, one in Davidson and two in Huntersville in the past week.
Mecklenburg County
In Mecklenburg County, there have been 577 deaths due to the coronavirus, up 34 in one week. There have been 65,809 cumulative cases county-wide, up 5,191 in one week, according to NCDHHS data. The Mecklenburg County positivity rate is 12.6 percent.
North Mecklenburg
Cornelius: 1,691 cumulative; 19 deaths total.
Davidson: 887 cumulative; 9 deaths total.
Huntersville: 3,419 cumulative; 23 deaths total.