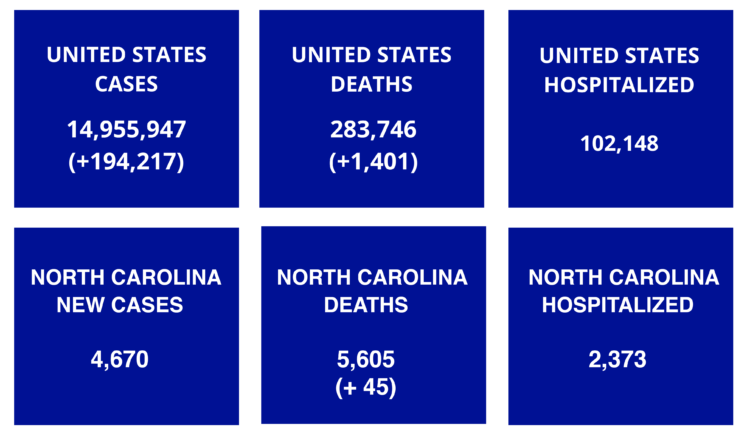 Dec. 8. By Dave Yochum. The NC Dept. of Health & Human Services today reported 4,670 new cases of COVID-19, up from 4,372 new cases yesterday, but well below Saturday and Sunday when the volume of new cases statewide hit 6,018 and 6,438 respectively.
Nevertheless, the NCDHHS today reported a larger increase in COVID-19 hospitalizations: 2,373, up 183 from yesterday when the number hospitalized increased by only 49.
One month ago, on Nov. 8, COVID-19 hospitalizations were reported at 1,147 statewide.
Deaths due to the coronavirus rose by 45 statewide, to 5,605.
Testing
Positive tests are coming back at the rate of 9.7 percent statewide, down from more than 10 percent during the past week, hitting 11.2 percent this past Friday.
In Mecklenburg County, positive tests climbed from 9.2 percent yesterday to 9.4 percent, the highest so far.
Total cases
Statewide, the cumulative total of COVID-19 cases now stands at 404,032.
Deaths
There were six new COVID-related deaths after none were reported Sunday and Monday in Mecklenburg County. One of them was in Huntersville where there have been four new deaths due to the coronavirus since Thanksgiving.
Mecklenburg
In Mecklenburg County, there were 439 new cases of COVID-19 in Tuesday's NCDHHS report, down from 564 in Monday's report and 784 in Sunday's report.
North Mecklenburg
Cornelius: 22 new cases, 1,089 cumulative; 17 deaths total.
Davidson: 10 new cases, 613 cumulative; 7 deaths total.
Huntersville: 24 new cases, 2,093 cumulative; 18 deaths total.
Vaccine coming
North Carolina is expected to receive 85,000 doses of the Pfizer vaccine, which is enough to vaccinate workers at 50 to 60 hospitals statewide, with those who work around COVID-19 patients getting the highest priority. It will take several months to have enough supplies that anyone can readily get a vaccine.