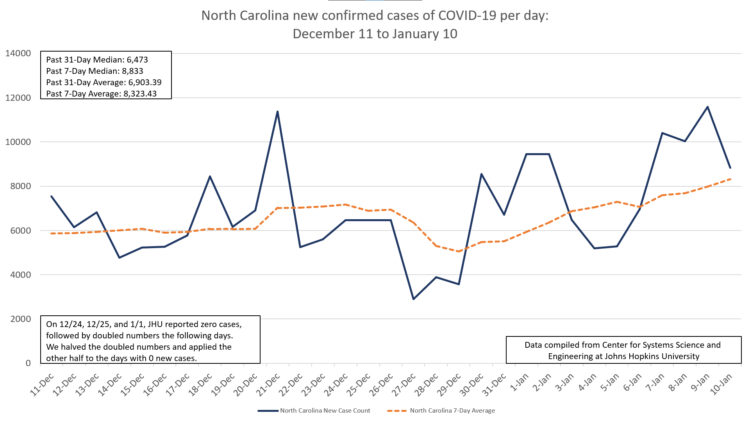 Jan. 11. The NC Dept. of Health & Human Services reported 5,936 new cases of the coronavirus today, down from major spikes that occurred last week. On Thursday and Friday last week, there were more than 10,000 new cases each day. On Saturday, there were more than 11,000 new cases.
Hospitalizations due to COVID-19 were at 3,843 today, up from 3,774 yesterday, but down from more than 3,950 on Thursday and Friday last week.
There were 11 new deaths statewide due to COVID-19 in today's report for a total of 7,578 since the outbreak began.
Testing
The statewide positivity rate was 13.9 percent; in Mecklenburg, it was 15.1 percent. The goal is 5 percent.
Mecklenburg County
There were 740 new cases county-wide in today's report, for a total of 72,177 since the outbreak began in March. There have been 618 deaths due to the coronavirus in Mecklenburg, up 41 in the past week.
North Mecklenburg
Cornelius: 11 new cases, 1,872 cumulative; 19 deaths total.
Davidson: 8 new cases, 973 cumulative; 9 deaths total.
Huntersville: 49 new cases, 3,781 cumulative; 32 deaths total.