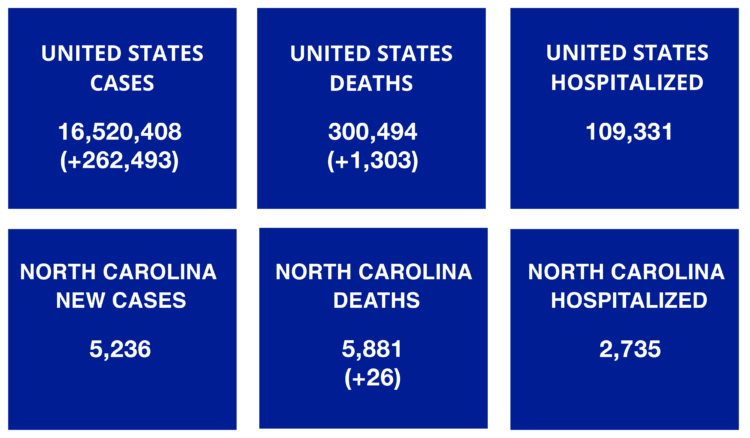 Dec. 15. The NC Dept. of Health & Human Services reported 5,236 new cases statewide and 26 new deaths due to the coronavirus, as hospitalizations hit a record 2,735.
The volume of new cases is below last Friday's record of 7,540 new cases but an increase from the 4,770 new cases the NCDHHS reported yesterday.
Statewide hospitalizations rose 182 from yesterday.
North Carolina has had a cumulative total of 5,881 deaths due to the coronavirus.
In Mecklenburg County, there have been 486 deaths due to the coronavirus, up one from yesterday.
Testing
Today's statewide positive test rate was 10.9 percent, down from 11.6 percent yesterday. The Mecklenburg County positivity rate was also 10.9 percent, level with the previous day.
Total cases
Statewide, the cumulative total of COVID-19 cases now stands at 446,601.
Mecklenburg
The county-wide total is now 52,432, or 536 new cases overnight.
North Mecklenburg
Cornelius: 15 new cases, 1,243 cumulative; 17 deaths total.
Davidson: 10 new cases, 676 cumulative; 8 deaths total.
Huntersville: 31 new cases, 2,414 cumulative; 19 deaths total.