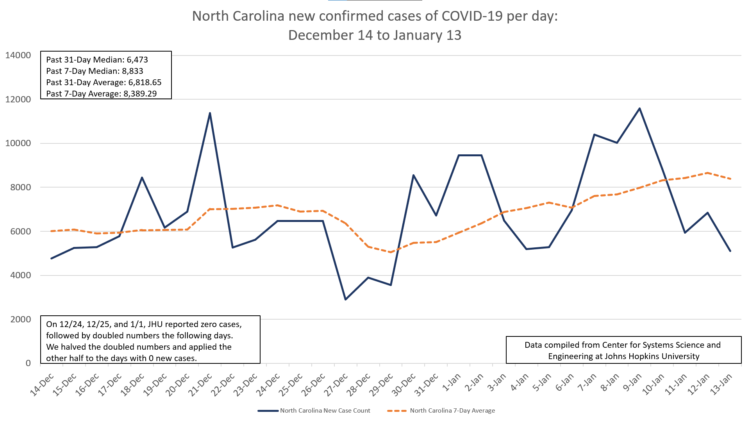 Jan. 14. By Dave Yochum. The NC Dept. of Health & Human Services today reported 9,853 new cases of the coronavirus today, a higher than expected number due to technical issues Jan. 12 that prevented some COVID-19 files from being processed in the state's reporting system.
As a result, cases and test data reported yesterday were lower than they would have been had all data been processed at the standard time.
Today's data are higher because they include cases that should have been entered into the NCDHHS system Jan. 12. To review NCDHHS data directly, click here.
Meanwhile, the NDHHS has just opened coronavirus vaccinations to those people 65 and older. To review vaccination FAQ, click here. (As of 1 pm Thursday, the new 65-year age threshold had not been updated, but other information is correct.)
Hospitalizations
Hospitalizations rose to a record 3,990, above the previous record of 3,960 set on Thursday and Friday last week.
Testing
The statewide positivity rate was 11.1 percent in today's NCDHHS report, down from 14.7 percent Tuesday and Wednesday. The goal is less than 5 percent.
Deaths
There were 80 new deaths statewide due to COVID-19 in today's report for a total of 7,825. Johns Hopkins University is reporting more than 385,000 deaths nationwide.
Mecklenburg County
There were 993 new cases county-wide in today's report.
There were four new deaths due to the coronavirus in Mecklenburg.
North Mecklenburg
Cornelius: 46 new cases, 1,949 cumulative; 19 deaths total.
Davidson: 15 new cases, 999 cumulative; 9 deaths total.
Huntersville: 58 new cases, 3,929 cumulative; 32 deaths total.