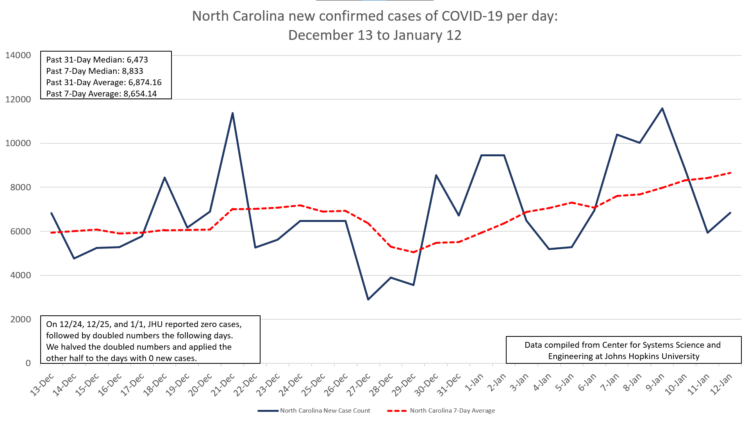 Jan. 13. The NC Dept. of Health & Human Services today reported 5,098 new cases of the coronavirus today, down from 6,851 new cases yesterday. There were more than 11,000 new cases this past Saturday.
Meanwhile, the Mecklenburg County Health Dept. issued a three-week directive urging people to stay home from work and school by using virtual options.
Statewide hospitalizations rose from 3,940 to 3,951 overnight. The record high was set on Thursday and Friday last week, when 3,960 people were hospitalized due to COVID-19.
Hospitalizations have increase 543 percent in Mecklenburg since September, Mecklenburg County Health Director Gibbie Harris said last night.
Coronavirus metrics are high:
Testing
The statewide positivity rate was 14.7 percent in today's NCDHHS report, the same as yesterday. The goal in managing this pandemic is less than 5 percent.
Deaths
There were 107 new deaths statewide due to COVID-19 in today's report for a total of 7,745.
Mecklenburg County
There were 509 new cases county-wide in today's report, down from more than 700 new cases both Monday and Tuesday.
There have been 11 new deaths due to the coronavirus in Mecklenburg, down from 17 new deaths yesterday.
North Mecklenburg
Cornelius: 8 new cases, 1,903 cumulative; 19 deaths total.
Davidson: 7 new cases, 984 cumulative; 9 deaths total.
Huntersville: 42 new cases, 3,871 cumulative; 32 deaths total.
Vaccines
COVID-19 vaccinations are now available to people 75 and older, but the supply is limited. Click here to find locations county by county.