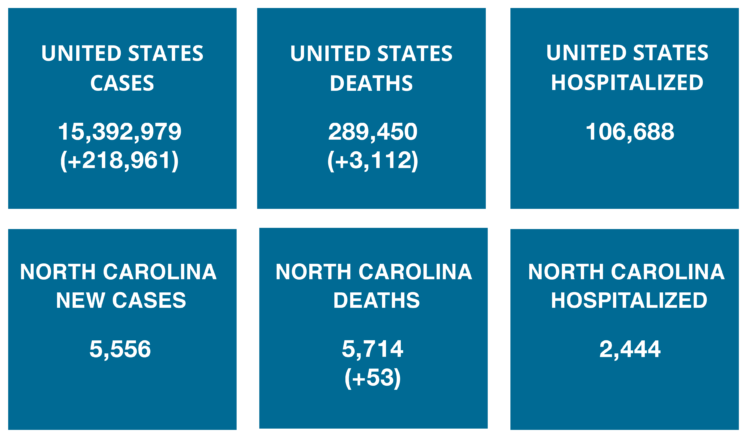 Dec. 10. By Dave Yochum. The NC Dept. of Health and Human Services reported 5,556 new cases of COVID-19 statewide, 14 percent below yesterday's record high of 6,495 new cases.
The NCDHHS reported 30 new cases today in Cornelius, a record, as well as 48 new cases in Huntersville, another record.
NCDHHS Secretary Dr. Mandy Cohen today said North Carolina is heading in a "dangerous" direction with fast-rising COVID-19 cases and positive test rates. Just a month ago, cases were under 3,000 per day.
Yesterday's statewide positive test rate hit 11.7 percent, while today's NCDHHS data shows 10.5 percent.
The NCDHHS also reported 2,445 hospitalizations Thursday, a record number. Cohen pointed out that hospitalizations are a "lagging indicator" of the virus' spread.
Curfew begins
A 5 pm tomorrow, North Carolina will be moving to a modified "stay at home" order, as per Gov. Roy Cooper.
Vaccines
Vaccines will be ready next week, Cohen said, with the most at-risk, front-line healthcare workers first in line for about 85,000 initial doses. The vaccines are highly effective, and do not contain strains of the virus. Cohen said as more vaccines become available, they will go to more hospitals, staggering their administration to staff based on exposure to COVID-19 patients.
Deaths
There were 53 new deaths, including one in Huntersville, due to COVID-19 reported today, down from 56 yesterday. The statewide total since March is 5,714.
Total cases
Statewide, the cumulative total of COVID-19 cases now stands at 416,083.
Testing
In Mecklenburg County, positive tests rose to 10.2 percent.
Deaths
A total of 5,714 North Carolinians have died of COVID-19 related illness since the outbreak began in March.
Mecklenburg
In Mecklenburg County, there were 597 new cases of the coronavirus in today's report, down from 651 new cases yesterday.
There were three new COVID-related deaths reported by the NCDHHS in Mecklenburg County today, for a total of 479 since March.
North Mecklenburg
Cornelius: 30 new cases, 1,135 cumulative; 17 deaths total.
Davidson: 10 new cases, 634 cumulative; 7 deaths total.
Huntersville: 48 new cases, 2,132 cumulative; 19 deaths total.
Median new case volume up 50%