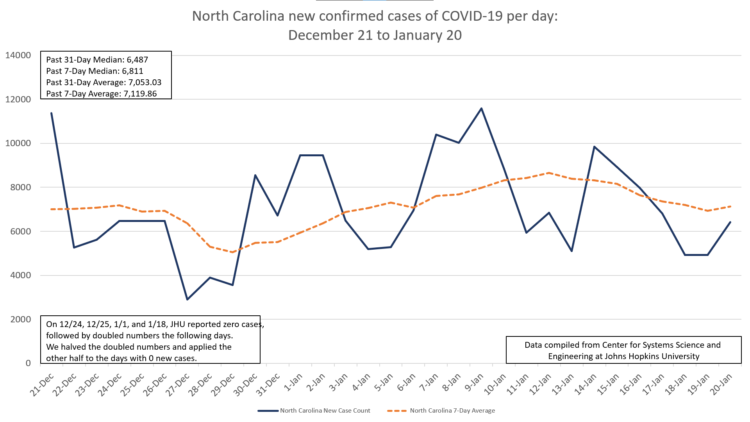 Jan. 21. The NC Dept. of Health & Human Services reported 7,187 new cases of the coronavirus statewide, up from 6,415 new cases yesterday and 4,058 new cases on Tuesday.
It's about equal to the average of the past 30 days, but it's well below the 11,000-plus new cases logged on Jan. 9.
"There is a lot of viral spread in North Carolina, and not enough vaccine to go around," NCDHHS Secretary Dr. Mandy Cohen said during a 1 pm press conference today.
There were also 139 new deaths attributed to COVID-19, the highest in 10 days. Deaths lag hospitalizations and new cases.
To view the state data, click here, for US and worldwide data from Johns Hopkins University, click here.
Testing
The statewide positivity rate was 10.3 percent in today's NCDHHS report. In Mecklenburg County, the positive test rate is 13.1 percent. Five percent and below is the goal.
Hospitalizations
COVID-19 hospitalizations statewide fell to 3,666 patients from 3,740 patients yesterday. About 95 percent of ICU beds are full in Mecklenburg.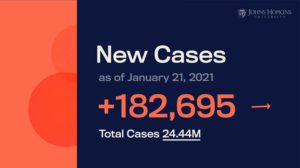 Deaths
The statewide total since March is 8,339. NCDHHS today reported one new COVID death in Davidson for a total of 10 since the outbreak began.
Mecklenburg County
Mecklenburg logged 658 new cases of the coronavirus today, down from 1,042 new cases yesterday. There were 10 new deaths, for a total of 700 thus far in the pandemic.
North Mecklenburg
Cornelius: 15 new cases, 2,069 cumulative; 20 deaths total.
Davidson: 16 new cases, 1,093 cumulative; 10 deaths total.
Huntersville: 45 new cases, 4,211 cumulative; 34 deaths total.