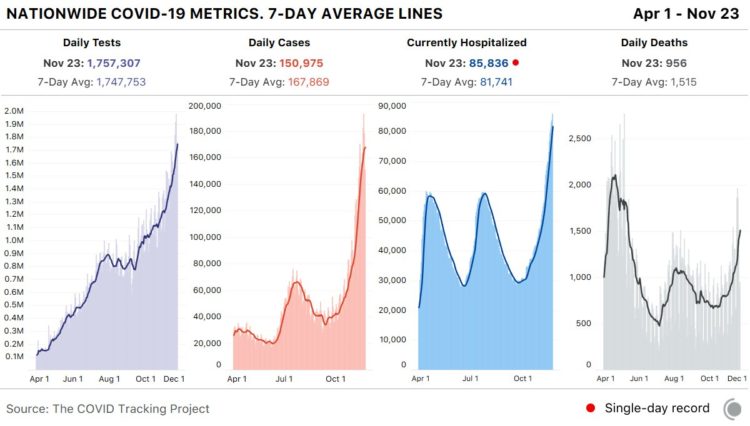 Nov. 24. By Dave Yochum. New COVID-19 cases statewide rose to 3,100 today having eased off from more than 4,500 logged Sunday, but coronavirus hospitalizations jumped to 1,724.
COVID-19 hospitalizations, which hit a record 1,590 on Saturday, reached a troubling 1,601 only yesterday. One week ago hospitalizations hit a then-record of 1,501, according to the NC Dept. of Health and Human Services.
The NCDHHS updated the county-by-county alert system three weeks early due to rising coronavirus metrics. The number of counties in the red zone doubled, with Gov. Roy Cooper issuing a new executive order tightening up the statewide mask mandate.
The governor announced that everyone must wear a mask anytime they are with someone they don't live with including at work, in schools and in stores—regardless of social distancing.
Total cases
Statewide, the cumulative total of COVID-19 cases now stands at 342,294. More than 85,800 COVID-19 patients were in US hospitals Monday—the 14th straight day this count set a pandemic record, according to the COVID Tracking Project.
Testing
Tests are coming back positive at the rate of 6.5 percent statewide. In Mecklenburg County, positive tests were reported at 7.3 percent. Health officials want to see positivity rates at 5 percent and lower.
Deaths
There were 35 new deaths statewide due to the coronavirus in today's NCDHHS report. Deaths are much more likely to occur among older populations as well as those with existing conditions like heart disease and diabetes.
A total of 5,074 North Carolinians who have died due to the COVID-19 pandemic. Johns Hopkins University is reporting 257,707 deaths nationwide due to COVID-19, up 909 in a day.
Mecklenburg
In Mecklenburg County, there were 319 new cases in today's NCDHHS report. There have been a total of 435 deaths countywide, with five new deaths overnight. There were 13 new cases reported in Cornelius, down from 24 on Sunday.
North Mecklenburg
Cornelius: 13 new cases, 914 cumulative; 17 deaths total.
Davidson: 7 new cases, 486 cumulative; 7 deaths total.
Huntersville: 24 new cases, 1,688 cumulative; 14 deaths total.