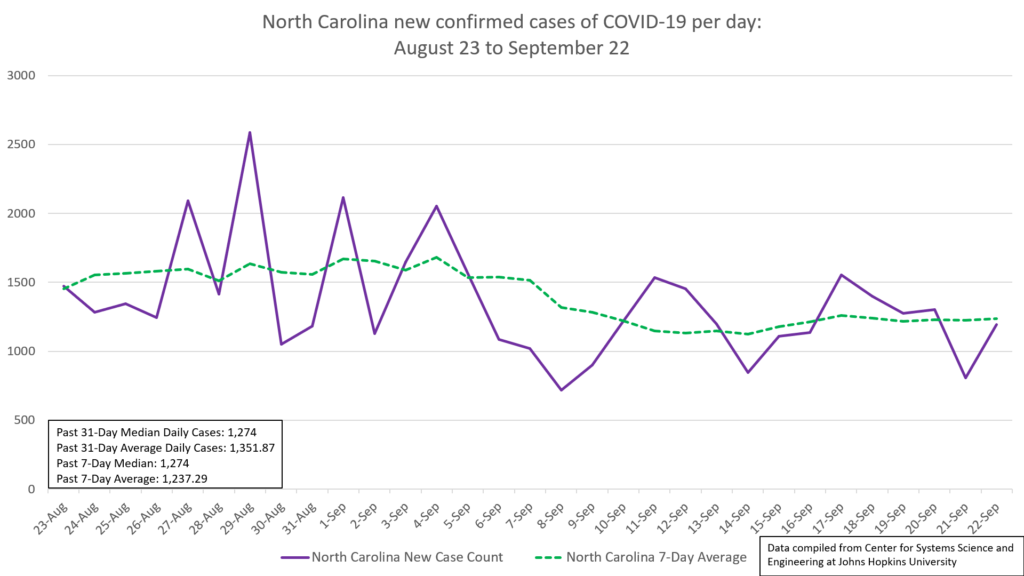 Sept. 23. By Dave Yochum. The median number of new coronavirus cases statewide during the past seven days is now running even with the past month's median, having been 14 percent below during the week ended Sept. 9. While there appears to be no Labor Day bump in new Mecklenburg County cases, it seems there was one in some more rural areas of North Carolina.
New data from Johns Hopkins University shows a median of 1,274 new cases per day over the past week as well as over the past month statewide. Positive tests have stayed above 5 percent for three days.
Meanwhile, the governor yesterday said that large outdoor venues can reopen starting Oct. 2 at 7 percent capacity with key safety precautions in place. The Panthers play at home Oct. 4 against the Cardinals at 1 pm.
Rural vs. urban
While Mecklenburg County's positive rate has dropped below 5 percent, other areas, like the Sandhills and Eastern North Carolina, are seeing higher percent positive rates. Richmond County yesterday was reporting 13 percent positive tests; Robeson County, 11.4 percent.
The data is from the NC Dept. of Health & Human Services. Many of the state's rural areas tend to be heavy in agriculture and meat packing, where social distancing is more difficult.
But Mecklenburg yesterday was at 4.1 percent, down from 4.8 percent on Tuesday last week. The statewide goal from a coronavirus management perspective is 5 percent and dropping even further from there. The percent positive rate in New York is running below 2 percent.
Coronavirus data has begun to reflect Labor Day parties—based on the incubation period of the coronavirus—but Mecklenburg's new caseload is trending down.
Another way the NCDHHS looks at the spread of the coronavirus is by cases per 10,000 residents. Montgomery County is reporting 377 cases per 10,000; Mecklenburg is 253.
Stay vigilant
Gibbie Harris, Mecklenburg County health director, said there is still the need stay vigilant and practice the 3 Ws. "Right now, it appears that things continue to move in the right direction," she said.
Indeed, while Mecklenburg has 10.5 percent of the state's total population, the county accounts for just 7.7 percent of North Carolina's new confirmed cases over the past week, based on data from Johns Hopkins.