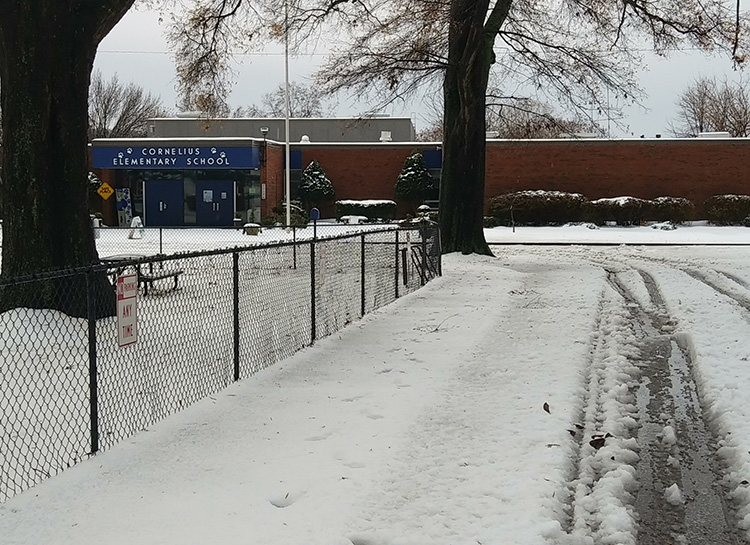 Dec. 11. 730 am. Some Charlotte-Mecklenburg Schools in North Meck as well as other magnet school locations are closing Tuesday due to ongoing impacts of the winter storm. Citing hazardous travel conditions as well as potential power outages, CMS modified its two-hour delay for students not just at Cornelius Elementary, JV Washam, Bailey Middle and Hough High, but nearly three dozen others in Davidson, Huntersville and north Charlotte. Lakeside Charter Academy and Community School of Davidson announced yesterday afternoon they were closing.
The following schools are closed for students and staff:
Bailey MS
Barnette ES
Blythe ES
Bradley MS
Cornelius ES
Croft ES
David Cox ES
Davidson ES
Early Colleges at UNCC: Engineering and Teaching
Grand Oak ES
Hawthorne Academy
Highland Creek ES
Hopewell HS
Hornets Nest ES
Hough HS
Huntersville ES
Independence HS
J.M. Alexander MS
J.V. Washam ES
Lebanon Road ES
Long Creek ES
Mallard Creek ES
Mallard Creek HS
Metro School
Northeast MS
North Mecklenburg HS
Northwest School of the Arts
Parkside ES
Performance Learning Center
Phillip O. Berry
Piedmont Middle School IB
Ridge Road MS
Stoney Creek ES
Torrence Creek ES
Trillium Springs Montessori
Waddell Language Academy
ALL other CMS schools will open for students and staff on a 2-hour delay today.
Businesses appear to be opening on a normal schedule.