By Dave Yochum. Imagine sitting down in Birkdale Village and singing—not an easy thing to do. Fourteen-year-old Ethan Regan started doing it when he was 12.
They've since shooed him away, but Ethan has the stage presence, voice and talent to busk pretty much wherever he wants. He has just released an extended play album called "Anthem," which is generating income on apps like Spotify thanks to more than 3,000 live streams.
The Hough High freshman is the son of Angie and John Regan who live on River Chase Drive with two more children: Zac, 16, who enjoys weightlifting, snowboarding and track, and Alivia, 11, who enjoys tennis, soccer and singing.
Dad is a Van Morrison and Billy Joel fan while Mom gets down with James Blunt and Ed Sheeran.
In fact, people compare Ethan's voice to Sheeran's, a sensitive singer/songwriter with a huge following.
Ethan got a guitar at age 6, "got good at 8 or 9 and got bitten by the bug." His favorite musicians, besides Sheeran, range from Jack Johnson to the Four Tops and Dion and Belmonts.
"He has driven this entire process from start to end. I've just supported him a bit with the business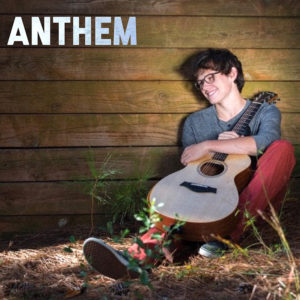 end of it but that's it," Angie says. He taught himself how to use the music production software enabling him to add different musical instruments to his songs.
Modest and well-spoken, Ethan plays in a praise band at Huntersville Presbyterian Church.
Ethan writes music and lyrics, and performs at places like Summit Coffee and a couple of dozen times a year at the homes of family friends. Song titles on "Anthem," include "Where We'll Go," "Snowflakes" and "Here for a Reason."
"Anthem is a big collection of songs that apply to my life," Ethan says, explaining that he can picture himself in five years "affecting more people's lives than I am now. I don't care about the money, because as long as people are loving and listening to the music and it's changing their lives in some way, I'd be happy.with a couple of albums…I can see myself being known locally."
A baritone, he recorded the album at NuSOUL Productions in Charlotte and played all the instruments himself, including keyboard and guitar. "It was kind of weird in a booth…it's fun because you are kind of secluded, with your thoughts," Ethan says. "The simplicity of it is what makes it unique…it is easy to listen to."
Listen for yourself on YouTube by searching Ethan Regan Anthem.