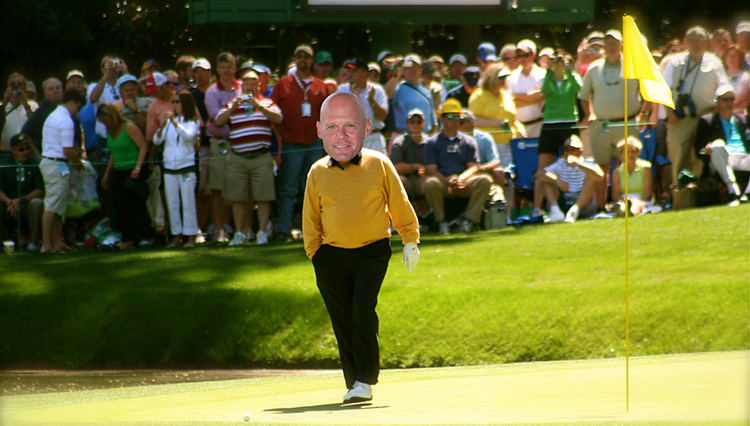 April 10. By Jon Show. It's Masters week. Or I guess it should have been Masters week. The week that dads everywhere mark on the calendar and say things like, "No I don't want to get a babysitter on Saturday night, it's Masters week and I'm going to watch the evening encore after I watch the third round live."
It's hard to look at the weather forecast this week and not think how nearly perfect it would have been. The weather was sunny and in the low 80s for Monday and Tuesday – always my favorite days to walk Augusta.
The crowds are thick but aren't unreasonable and you can walk the course with relative ease. I like to walk out one and two, cross over seven and walk 17 back to Amen Corner before ending the day with the ceremonial walk up 18. The walk up 18 never disappoints on a late sunny afternoon.
The perfect conditions would have held for the Par Three Contest on Wednesday – always the most nostalgic day at Augusta.
My first time covering the Par Three Contest I walked out the old media center near the first fairway. As I passed the clubhouse a diminutive man next to me whispered to no one in particular, "Every day's a good day, isn't it?"
As we reached the rope line I stopped and he continued – and for the first time I made eye contact with him. It was Gary Player –  the last in his threesome to make it to the tee box joining Arnold Palmer and Jack Nicklaus. I must have looked surprised because he smiled and winked at me.
The morning burst of rain yesterday would have provided some unexpected moisture to the greens and led to low scores for the morning wave on Thursday – which always provides my favorite moment of each Masters.
My third time covering Augusta, Gary, Arnold and Jack paraded through a crowd of people to hit the ceremonial first tee shot around 9 am. The fog was so thick that tee times were pushed back an hour or so. One by one they hit their shots with swings that didn't-but-kinda-still-did resemble the ones you remember.
Palmer was last to take the tee and roped a drove into the morning mist and fog. He put his hand over his eyes to look off in the distance, then turned and said softly to no one in particular, "I nearly hit it out of sight."
Those Thursday low scores would have come back to the field when the afternoon winds started howling yesterday afternoon and today – Friday – the day of one of my favorite Masters memories.
In 2004 I had an editor ask me to write a unique story about Tiger. You can't write a unique story about Tiger at the Masters – they've all been written. Plus you can't see him because they don't allow the media inside the ropes like they do at every other golf tournament on the planet.
So that Friday I wrote a story about how I followed Tiger all day and he shot a 72 but by my estimate he only had a 23 if you counted the number of shots I saw.
Late in the afternoon, after giving up trying to find viewing spots to see Tiger, I slowly made my way from down near the 16th green back toward the clubhouse.
Every golf fan has a group of enduring Masters memories – you can't have one favorite. Mine include the first one I watched – when Nicklaus won in '86; Tiger in '97, of course; Phil in '04; and Raymond Floyd's playoff defeat by Nick Faldo in '90 just because I vividly remember watching with my dad.
As I walked up the fairway near the seventh hole I turned and randomly saw Floyd. His fourth shot on the par-4 landed short of the green and, just as I turned to look at him, he holed out for bogey in one of his final rounds at Augusta.
Thinks like that only happen at Augusta. Michael Jordan isn't popping up at an All Star Game.
Tomorrow – moving day – the forecast is so perfect that if you close your eyes you can actually see the long shadows of the pines in late afternoon – always my favorite time of day at Augusta.
My first day covering the Masters I was unaware that you needed a photo credential as well as a media credential if you wanted to take pictures. I got yelled at before I even got the camera out of the media center – but I also had to find a way to get a picture to run with my story that night.
Shortly before dusk I snuck out with my camera in my bag and started running across 18 for Amen Corner.  The course was completely empty. A nice security guy picked me up and drove me down to the 12th tee box and dropped me off and I sat, for 30 minutes, all by myself, in the most famous corner of any golf course in the world.
On my way back I took this picture of the 14th hole as the sun set behind it.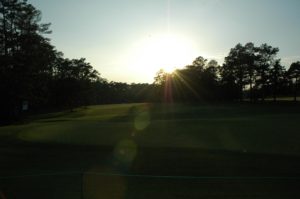 Look, I don't know where you are mentally in this coronavirus situation. I don't know if the Five Stages of Grief applies but if it did I'm pretty sure I poured through Denial, Anger and Bargaining in the first week and currently sit somewhere closer to acceptance than depression.
I should be at Augusta this week, but I'm not. There won't be a Masters Sunday this weekend like every other year I can remember since I was a young child – and that's hard to swallow. But I'm trying to think as positively as possible.
The Masters has still been on TV this week. On Wednesday ESPN aired Nicklaus' epic 1986 win and his legendary back nine on Sunday. I watched it with my son, who is the same age I was when I watched it with my dad.
Last night I watched Tiger's historic win in 1997 and tonight they'll air the 2005 Masters when Tiger sank his epic chip from behind the 16th green. Tomorrow we have Phil finally breaking through in 2004 and his famous celebration leap.
It's Masters week without the Masters so I'm going to make the best of it. I'm going to bust out the deviled eggs and my poor man's attempt at egg salad sandwiches. I'm going to wash it all down with an Arnold Palmer.
Besides, if we're being honest, the weather on Sunday looks terrible. Chance of rain is 100% with thunderstorms forecast in the afternoon. If there was a Masters this year I wonder if the final round ever would have finished on Sunday under those conditions – forcing a Monday finish that never delivers the drama as a Sunday finale.
So on Sunday I'm going to flip on CBS at 2pm and relive Tiger's return to the throne in 2019 after more than a decade without a major title.
There are worse ways to spend a Sunday.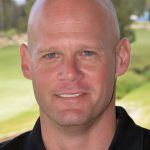 Jon Show lives in Robbins Park with his wife, who he calls "The Mother of Dragons." Their 10-year-old son is "Future Man" and their 7-year-old daughter is "The Blonde Bomber." Their dog is actually named Lightning.