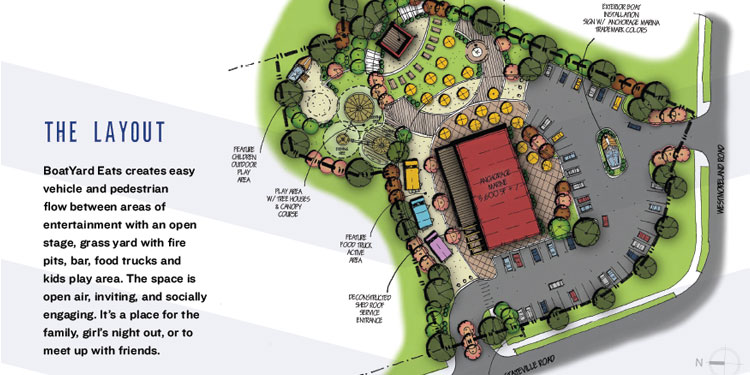 April 5. By Dave Vieser. An eyesore in Cornelius should soon be relaunched The Cornelius Town Board has approved the rezoning for Boatyard Eats at the site of the long shuttered Anchorage Marine on the corner of Highway 21 and Westmoreland Road. The owners, Old Swan Development LLC of Chapel Hill, plan to open a combination music and food venue at the 3.6 acre site later this year.
BoatYard Eats will be a restaurant based around a rotating lineup of food truck offerings. The  building will be repurposed, along with upgrades to the grounds.
According to documents filed by co-owners David and Joe Stockwell, the building itself will house a kitchen which will serve a limited menu offering a signature dish that will be served every day. There will be three permanent parking spaces complete with electrical hookups for food trucks in the rear of the site. There is also outdoor seating proposed under an existing canopy that is attached to the building and an outdoor entertainment area with a stage.
"It's all about the people getting together, having a good time, and enjoying themselves," said David Stockwell, who now lives in Cornelius and serves on the town's historical preservation committee. "Boatyard Eats will be experiential dining. We will offer an authentic rotating food truck experience that delivers a high quality and unique eating experience to Cornelius. It will be a place to gather with your family and friends."
Stockwell said he plans to "really spruce up the site", refurbishing or replacing the broken asphalt, and removing the chain link fence. He also noted that the stage for music will be set up in a manner so that the sound will carry in the opposite direction of neighboring homes.
In other action, the town board:
Unanimously approved the rezoning of 7.32 acres on the south side of Washam Potts Road, a short distance east of Westmoreland Road, to permit Classica Homes to erect 22 homes. The new single family three bedroom residences will be between 2800 and 3200 square feet in size, with a selling price around $600,000. The development will be called Washam Potts Reserve. Classica's President and CEO Bill Saint said told the commissioners "we are very excited about this great use of open space."
Honored retiring Lt. Myron "Bubba" Wally who  had served the Cornelius Police for 23 years. The town elected to retire Lt. Wally's badge and awarded it to him at the meeting for his dedicated service.
Adopted a resolution accepting the remaining streets in the Preserve at Robbins Park, Phase 1, for Town maintenance. The streets accepted included portions of Robbins Crescent Drive and Robbins Ridge Road.