April 20. By Dave Yochum. A Charlotte developer's plans for a 16.2-acre mixed-use project near downtown Cornelius met with considerable opposition from neighbors in Antiquity and in adjacent Davidson.
Some of the concern has to do with the adjacent Olde Mecklenburg Brewery project on the former Curtis Screw factory where another mixed-use project is planned. Greenway Gartens includes a brewery and beer garden, as well as 398 apartments and 50 townhomes.
Enter "Caroline," a Proffitt Dixon project with an active adult/age-restricted residential section, retail, offices, commercial buildings, green space and multi-family residential.
The property is currently zoned neighborhood residential and would need to be rezoned if it is to proceed, hence the public hearing last night.
Philip Bechtold, a member of the Antiquity Homeowners board, said "we are very positive on both these projects," referring to Greenway Gartens and Caroline.
Resident concerns
His neighbors disagreed.
Travis Julian, an Antiquity resident, said the Carolina project has raised a lot of neighborhood concerns, including traffic. With 700 total units, he estimated 2,800 trips in and out of both projects, just from residents, not counting retail and brewery traffic.
"How do we address traffic flow," he asked, pointing out the density of both Greenway Gartens and Caroline.
Mike Hurley, also from Antiquity, asked for the board to deny the rezoning request based on the "adverse impact" of traffic.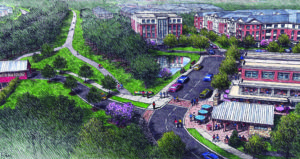 He asked for a traffic study that would include both Greenway Gartens and Caroline.
Rick Sherman said there was a "considerable" number of people opposed to the plans, including construction traffic on Old Canal where sinkholes have been an ongoing problem.
Carla Eisenberg, of Davidson, said aerial renderings were deceptive and masked the scale of the project.
Mark Ceraldi, of South Street in Antiquity, said he opposed the plan, based in part on the difficult topography which includes steep terrain and two streams.
Ann Browning, a Davidson resident, expressed concerns about conducting a traffic impact analysis during a pandemic. Given over-development, she said she "our concern is that our two towns will become two more congested suburbs with a few cute buildings on Catawba and Main Street."
Cornelius resident Justin Bossert emailed the Town Board: "There aren't enough roundabouts and infrastructure projects in the world that can accommodate the kind of traffic we are talking about adding to our roads."
Chamber, VLN in favor
Bill Russell, CEO of the Lake Norman Chamber, spoke in favor of the project, saying it would add rooftops to support retail, including specialty shops and restaurants. "Retail follows rooftops. You absolutely have to have people if you're going to have as successful project," he said, mentioning Antiquity, which itself is a mixed-use project with retail.
Sally Ashworth, CEO of Visit Lake Norman, said she supports Caroline because it downtown lacks hospitality infrastructure, even with the Cain Center for the Arts on the way. "The Carolina development is important to the overall Town Center's success," she said in an email that was read aloud.
What's next
Monday night was the first hearing on the project which requires rezoning to go forward. A second hearing has not been scheduled until a traffic study is completed.