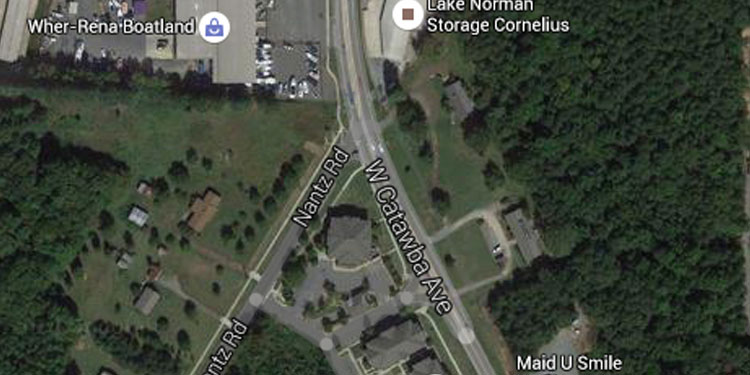 April 28.A community meeting to outline development proposed for the intersection of West Catawba Avenue and Nantz Road will take place on Wednesday May 9, from 6 pm to 7:30 pm at Cornelius Town Hall. The meeting will be conducted by the developer, Convenience Development Partners LLC, of Huntersville.
The proposal calls for the development of approximately nine acres which is partially occupied by two vacant homes on the east side of Catawba. One of the new buildings will be approximately 2,940 square feet and will house a 7-Eleven convenience store and filling station. The remainder of the development, approximately 25,000 square feet, will be comprised of three commercial/retail buildings, including a Pet Suites, a "premier pet hotel" providing boarding and grooming for furry friends.
A restaurant may also be included in the commercial/retail cluster.
The community meeting is the first step in the town's approval process and gives residents the chance to view and comment on the plan before it goes before the Town Board. The current zoning for the property is neighborhood mixed use (NMX) and the proposed zoning will be conditional zoning (CZ).
The first of two public hearings on the project is currently scheduled for Monday May 21, 7 pm, at Town Hall. No decisions will be made at that meeting.
Eventually, it is anticipated that Nantz Road will be extended across West Catawba Avenue into a new townhome development proposed for vacant land behind the nearby Dunkin Donuts project. However, the extension of Nantz Road into the townhome development is not part of this proposal.
The community meeting will be held in Room 204 at Town Hall.